FASHION
Welcome spring with kurtas
Compared to the western shirt, the kurta is lighter, fits better, looks cool and is more comfortable, besides being versatile, says Hector Choksi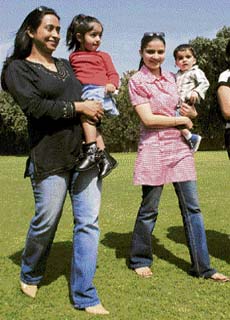 You can wear the kurta with trousers or jeans
NOW that the harsh winter is over, it is time to welcome spring with kurtas. It is admitted that after salwar-kameez and saree, the kurta is the most distinctive attire in the fashion firmament of the subcontinent.
Compared to the western shirt, it is much lighter, fits better, looks cool and is immensely comfortable. The best about it is that it is fantastically versatile. You can wear it with the traditional dhotis/pyjamas or if you like pair it with trousers or jeans. If need be, you can retro it with churidaars, and in the case of ladies, try it with lehengas /sarees.
This requires that you must have kurta of varying lengths. The one mostly worn usually extends to two inches below the knee—a measure suitable for pyjamas/dhoti/churidars.
For the fairer sex, which wants to be demure and yet modern, you have the Mughlai kurtas, which envelope the body down to almost the ankles. Then again for the most modern you have mini kurtas or kurtis.
Rajen Bhansali, a fashion consultant, states that in sizes from 30 to 38 with profuse embroidery, we find kurtas are better substitutes for tops/blouses.
Ranen Sanghavi, who specialises in the wardrobe of filmstars, has this to add: "Two years ago kurtas did not find any takers with famous personalities. Today with the 'show-the-bod' attitude, kurtas have become popular again".
Sanghavi feels that the popular opinion seems to be that short kurtas will not look nice on large-size women. The kalidar kurta, which has its origins in the ghagra/lehnga kalis or panels and are sewn into the waist to widen the flare, can be worn by all kinds of figures.
From the self-proclaimed kurta king Aki Narula to the Tarun Tahilianis and Monisha Jaisinghs, every Indian designer has a fascination for the kurta .
As on date fashion designer Amrita Chotrani lists major types of kurtas. The Lakhnavi kurta usually comes with a kali and traditional chikan embroidery. Almost anybody can carry it off. The pheran is wide-bodied and longer in length than the Lakhnavi kurta. It is ideal for a woman with a widely spreading figure as it conceals bulges. The kalidar kurta has ghagra/lehnga kalis or panels which are sewn into the waist to widen the flare so that it can be worn by all kinds of figures.
The Mughal kurta has a clinched waistline which is sometimes elasticised for convenience, and looks good on a slender waist and lithe figure. The front open kurta is rather popular with a round shape and not good for those with a heavy lower body. The short kurta looks best teamed with churidars and requires an hour-glass figure to carry it off. The straight kurta suits almost any figure. Interesting necklines add to appeal of this kurta. The tunic style kurta with long side slits can be teamed with almost anything.
Style designers agree that you cannot do much about the fall or fit of the kurtas. But the collars and sleeves can be modified to suit the wearer's personality. From collarless babu cuts to V-necks and Mao collars, kurtas are being jazzed up with intricate silk thread embroidery in both tone-on-tone and contrasting colours. — MF