Indian Hockey: Apocalypse now?
Even as the entire nation ponders over the Santiago debacle, the world of Indian hockey might be in for another rude shock due to the waywardness of the games administrators, writes Prabhjot Singh
The International Hockey Federation (FIH) has preferred to rub in rather than soothe the wounds that the beating at Santiago inflicted on Indian hockey. While the ardent lovers of the game are finding it hard to come to terms with the grief of losing an Olympic berth for the first time in 80 years, the FIH has delivered yet another lethal punch on the badly bruised Indian Hockey Confederation, by accusing it of "unsatisfactory" progress on the Promotion of Indian Hockey project.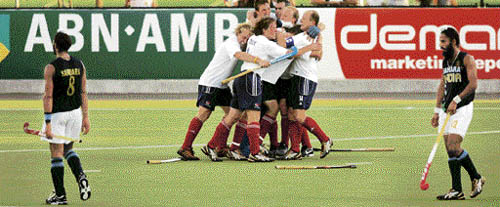 The state in which Indian hockey finds itself, might just take a turn for the worse as the FIH indulges in some arm-twisting and financial muscle flexing with the eight-time Olympic winners. — File photograph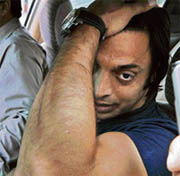 IN THE NEWS
Rawalpindi Express derailed
The Pakistan Cricket Board for violating the players' code of conduct handed Shoaib Akhtar, the 32-year-old 'Rawalpindi Express', a five year-ban. A look at his decade-long career reveals a tendency of being at the wrong side of the rules, almost always.


Shoaib Akhtar has been in the eye of a storm ever since he started playing cricket. The PCB finally nailed the erratic Pakistani fast bowler as it banned him from international cricket for five years. — Photo by AFP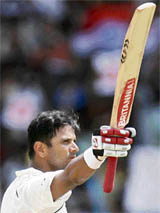 The Wall stands tall
Ivninderpal Singh
As Virender Sehwag went about butchering the South African attack, one man calmly completed a half-century, 10,000 Test career runs and subsequently a fine and well-deserved hundred. That has been the story of Rahul Dravid's career. He has lived the initial part of his career in the shadow of the 'Little Master' and at times the 'Prince of Kolkota'. Slowly and steadily, from being touted as probably the most boring batsman in the ODI age, Dravid worked on his reputation and became 'Mr. Dependable' and then finally 'The Wall'.
As Rahul Dravid reached 10,000 runs in Test cricket, at the Chepauk, he reaffirmed his position as Indian batting's mainstay and a tireless workhorse. — Photo by AFP

DLF Women's Indian Open
Phatlum reigns supreme
Curbing her aggression, Phatlum Pornanong of Thailand played to a plan and emerged as a start-to-finish winner with an even par-72 in the three-day DLF Women's Indian Open golf tournament. Phatlum was the only player to finish with a sub-par total at the DLF Golf and Country Club. She finished with a total score of 212 and four shots clear of Wei Yun Jye (71) of Chinese Taipei and Yuki Sakurai of Japan (72) who shared the second place at even par 216.


Rafael Nadal and Serena Williams were placed in a 'swimming pool' to play tennis, with ball boys standing in the deep end of the pool. The water-covered court was constructed in the 110ft swimming pool set atop Miami's new Gansevoort South Hotel.

The hotel's exclusive 22,000 sq ft rooftop retreat overlooks Miami's south beach. The court took seven days to build as a specialist underwater team constructed two invisible platforms at either end of the pool for the players to stand and play using a combination of bespoke acrylic sheets and supporting acrylic tubes that were bonded together. — AFP