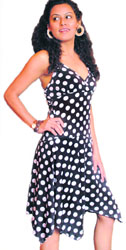 You just can't get enough of these itsy-bitsy, big-bold, black-white, bubblegum pink-electric blue, fun-playful, simple-unadorned, POLKA dots! No wonder, everything from apparel & accessories to footwear and even upholstery is actually going to the polkas!
It's all about dots!
Baby dolls rejoice! For here's some 70's fashion you'll love to get drenched in. Bold, vibrant n' cutesy, yet quirky, the dot brigade is once again dancing on dresses to woo you. And when we talk polka dots we mean a lot more than Deepika's Hema Malini yellow polka dress in OSO. These circular balls are dotting our town on everything be it glam dresses, knee length tunics, funky footwear, clutch-me-tight handbags, crisp cotton bedsheets, designer ceilings and more. Here's riding the dot wave and crash-landing back with a lil' bit of their magic.
Photo: Pradeep Tewari; Wardrobe courtesy: Polka


Telly Tales

n Tulsi makes a comeback
Finer points
This book owes its origin to a slap, which D. P.
Sabharwal received from his father for calling a
street vendor oye when he was 9. It was a word,
according to Sabharwal, neither abusive nor derogatory,
but indecent. So, when he conceived A Finer You, his
15th book and the most recent one (yet to be released
formally), it started with basic mannerisms and etiquette.

Step Out
Eating well on camping trips is essential & possible with
a bit of proper planning & packing
Outdoor kitchen
Too often I have seen hikers not paying enough attention to the food they pack and take along on camping trips. They try to make do with instant noodles, chocolates, biscuits and bread-and-jam sandwiches. As a result, their enjoyment of the outdoors experience is diminished.
Summer styles to get you high-on-attention
Hair & How!
Come summers and 'makeover in everything' is what we're all looking for. From airing out our shopping bags to fill them in with cucumber cool colours and breathe-easy cottons, stocking our refrigerators with refreshing, juicy fruits, setting on a sharbat-making spree and getting our décor uncluttered to stashing away those full-length denims for capris and shorts, aren't we practically changing everything about our look and lifestyle?

Beauty Studio
Nail It!
Did you know a manicure is as good as buffing and filing your nails? This is the natural way to smoothen and shine your nails and a beautiful alternative to paint. It smoothes ridges on your nail plate and improves circulation while filing gives a shape and protects your nail from flaking.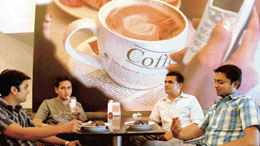 These are the cool places where you would surely want to be seen!
Just Chill chill!
As the sun plays the lovable rogue (at times delighting while at other times repelling us with its sudden benevolence!), we know for sure it's summer time. The time when gehri-gangs are all geared up to set the city streets sizzling in ganjis, purani jeans (or faded, do we say?), bold sunglasses (remember Saif and Bips in Race?) and roaring bikes.