Flattened in region
Freak hailstorm hits harvesting
Sarbjit Dhaliwal
Tribune News Service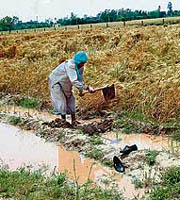 A farmer removes water from his wheat field at Majatari village, near Fatehgarh Sahib, on Saturday. — Tribune photo by Vicky Gharu
Chandigarh, April 5
It is a bad beginning of the harvesting season for rabi crops, especially wheat — the most vital crop vis-a-vis the food security of the country. Raging winds, accompanied by moderate-to-heavy rain in Punjab, Haryana, Himachal Pradesh and parts of Rajasthan have played havoc on crops.
Reports from the countryside say Saturday's hailstorm hit different parts of Moga and Muktsar, causing considerable damage to crops. It is not clear yet how widespread the hailstorm was.
A Tribune team touring rain-hit areas in the Fatehgarh Sahib region came across flattened wheat and other crops at most places.
The unusual weather has not only impeded harvesting that was expected to pick up momentum this week but has also damaged crops. Arrival of wheat is likely to start in rural and urban markets next week.
An estimated 105 lakh tonnes of wheat in Punjab and about 40 lakh tonne in Haryana is to be procured this season. If this can be achieved, the next year will be comfortable regarding the food security of the country. Any significant drop in the procurement from the projected figures will be a cause of concern for the Centre, already on the back foot because of spiralling prices.
"We had engaged labour for manual harvesting of wheat but persistent rain for the past few days has upset our arrangements", says Jaswant Singh, a farmer from Pir Jain village, near Fatehgarh Sahib. There is no question of harvesting using combine harvester at this stage as the soil is too wet. Harvesting cost, anyway, will go up because wheat plants have been flattened."
Owners of combine harvester are demanding harvest rates between Rs 600 and Rs 800 per acre. The manual labour charges Rs 2,200 per acre for handling the entire task, including harvesting, threshing and stacking of hay.
Balwinder Singh Sidhu, director, agriculture, said: "We are keeping a watch on the situation. If the bad weather clears by tonight, the loss will be insignificant. I have reports of hailstorm hitting certain areas in Moga district and at Muktsar but the extent of damage is not clear yet."
Amritsar: As heavy rain caused damage to wheat crop in Amritsar and adjoining areas today, farmers, led by Satnam Singh Pannu of the Kisan Sangharsh Committee, decided to meet deputy commissioner K.S. Pannu on April 8 to seek a survey of the affected wheat fields and compensation
in this regard.
Pannu said the situation was being watched carefully in Amritsar district. In case rain continued for more time, then damage to crop would be substantial. He said hailstorm hit only small pockets in the district. However, farmers like Bakhsir Singh say that heavy rain had caused a heavy damage in the Amritsar belt.