Sex Ratio in Haryana
Suddenly, a slump in 'good' dists
Geetanjali Gayatri
Tribune News Service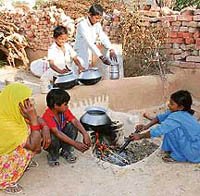 Her ratio: Pallo Devi of Jhalniya village in Fatehabad is proud to have four sons, while she has just one daughter. — Tribune photo by Ravi Kumar
Kaithal/Fatehabad, April 5
In a development that has sent alarm bells ringing in Haryana, the sex ratio in a number of "performing" districts of the state has begun to slip.
The fact that the girl child is in danger is undisputed, but this reversal of trend in seven districts, which had thrown up encouraging results in building up on their girl child population in the past three years, has come as a bolt from the blue. In five districts, the sex ratio is down by over two cent.
Based on the total number of registered births in a given year, the recently released sex-ratio statistics in the zero to one year category, show Kaithal in poor light. From having the second highest sex ratio in 2006 (892/1,000), it has fallen to the last position in 2007 with a sex ratio of 867 per 1,000. Similarly, Rohtak and Sonepat are down by 2.4 per cent and 2.1 per cent, respectively.
The number of girls born last year has fallen considerably in Fatehabad district where the ratio has come down from 891 to 869 for every 1,000 boys. Narnaul (768/1,000), Yamunanagar (855/1,000) and Mewat (863/1,000) are districts where the ratio has fallen.
Prima facie, the reasons remain the same i.e. rigid mindsets that favour boys, easy accessibility to sex-determination tests and medical termination of pregnancies (MTP) and the lack of public participation to build up a movement against female foeticide. A slightly laidback approach by the administration after having achieved an improved sex ratio for two years is also cited as a reason.
Dr H.R. Singhal, civil surgeon, Rohtak, blames that people's mindset is claiming the life of the girl child. "We have made exhaustive efforts, organised rath yatras, seminars, havans, administered oaths to ultrasound clinics, motivated priests to incorporate an oath in marriage ceremonies. We are doing our bit, but public commitment seems to lack," he states.
Over the months, the health authorities claim to have gathered evidence that people prefer to cross over to adjoining districts for all "malpractices".
Kaithal civil surgeon Dr R.P. Dahiya said: "Yes, the number of girls born in 2007 has gone down, but I can guarantee that sex-determination is not happening in our district. We are keeping tabs," he says but cannot explain why.
Worried officials have got down to redrafting their action plans. "We have already held a meeting of all anganwari workers, ANMs and doctors and identified 10 villages with the lowest ratio," explains Dr J.K. Bishnoi, civil surgeon, Fatehabad.
Something to cheer about
Here's some good news too: Bhiwani, one of the districts at the bottom of sex ratio in the past, has come up well; its sex ratio went up from 861 to 895 in 2007. Other districts that have shown marked improvement include Jhajjar, Gurgaon and Karnal.