Sena attacks Bachchan, praises Rajni's stand
Tribune News Service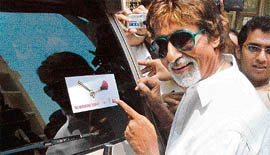 BLOWING HIS OWN TRUMPET? Amitabh Bachchan pastes a sticker with the slogan 'No honking today' on his vehicle in Mumbai on Saturday to express his solidarity for No Honking Day to be celebrated on April 7. — PTI
Mumbai, April 5
After Maharashtra Navnirman Sena's Raj Thackeray kicked up a storm questioning the loyalty of movie star Amitabh Bachchan to Mumbai and Maharashtra, it is the turn of his uncle's party to hit out at the superstar.
An article in Shiv Sena mouthpiece, 'Samana' said, "Several actors, who live in Mumbai achieve fame and glory. But when it comes to taking a firm stand on the issue of Marathi or regional pride, many of them, including film star Amitabh Bachchan backtrack."
The editorial compared Amitabh Bachchan with actor Rajnikant, who hit the headlines by supporting Tamil Nadu over Karnataka on the issue of the Hogenakkal Water Project.
Rajnikant, the newspaper said, was of Maharashtrian origin, who was born and brought up in Karnataka. "But since he made his career in Tamil films, he chose to support the place where he made his career," 'Saamna' said in its editorial.
"However, people who have benefited from Mumbai and Maharashtra often don't take up for the Marathi cause and run away. This includes people like Amitabh," 'Saamna' added.
The criticism of Amitabh Bachchan came as a bolt from the blue since the superstar was seen close to Bal Thackeray and his son Uddhav. In fact, when Raj, the rebellious nephew of the elder Thackeray, had targeted Bachchan earlier this year, the actor's MP wife Jaya had only kind words for the Shiv Sena supremo.
"We treat Balasaheb as a father figure and respect him. But we don't know who the other fellow is," Jaya Bachchan had told reporters.
It is not clear if there is anything other than the rivalry between the two Senas behind the attack on Bachchan. Bal Thackeray and his son Uddhav are known to demand a hefty price from anyone they lend support to.
According to some political observers, Bachchan, who has quit politics, is a soft target with no support base either in the Congress party, which he represented in Parliament during the Rajiv Gandhi government or anywhere else. Though he is close to Samajwadi Party leader Amar Singh, and his wife Jaya is a party MP, Bachchan himself stays away from politics.

Don't you think I have done enough for M'rashtra: Big B
At a function to commemorate 'No Honking Day' programme in Mumbai organised by the city traffic police, Bachchan hit out at the media for seeking his reaction to the 'Saamna' editorial. "Don't you think I have done enough for Maharashtra? If you don't know my contribution, then it is a shame," he shouted at mediapersons.
He was reacting to a question on an article in 'Samana' that compared him with Tamil superstar Rajnikanth, who is agitating for Tamil Nadu on the issue of Hogenakkal water project.