PUNJABI REVIEW
Search for Sheikh Farid
Wazir Singh
Sri Guru Granth Sahib Wale Sheikh Farid di Bhal
by Prof Pritam Singh. Singh Brothers, Amritsar. Pages 368. Rs 650.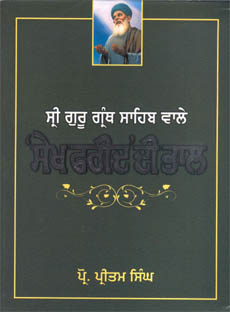 THE book is a research treatise on Baba Sheikh Farid, the 12th-century savant of the Chishti order of Sufis. He flourished about three centuries earlier than the advent of Guru Nanak. When the first recession of the holy Guru Granth Sahib was compiled and edited by Guru Arjan Dev in 1604, Baba Farid figured among 15 saints whose compositions found place of honour in the Granth, along with the contributions of the Gurus. Evidently, the verses of Farid were in circulation during the lifetime of Guru Nanak and his successors. Two of Farid's compositions in Raag Assa and another two in Raag Suhi and Suhi Lalit besides 712 short verses (shalokas) are available in Guru Granth Sahib. Apart from these, numerous compositions authored by Farid in various dialects, some with slight differences in orthography have been discovered by scholars.
The main problem tackled by Pritam Singh in the book pertains to the identity of Sheikh Baba Farid. Is Farid one person or the name 'Farid' applies to more than one? Several of Baba Farid's progeny and successors might have adopted the designation Farid in their respective poetic works. Dr Lajwanti Ram Krishna, who had her PhD from Paris, expressed the view that Farid Bani had been authored by one of Farid's successors, Sheikh Ibrahim. Pritam Singh, facing such puzzles, started his search for the real identity of Baba Farid in 1950, and has published his magnum opus in 2008, at the age of 90.
The present volume is divided into five parts, plus 11-page foreword and a few supplements. The first part discusses the identity of Baba Farid Shakarganj, who is rated to be 'Punjabi' and 'Sheikh' meaning Darvesh, a Sufi leader, or Pir, authorised to enrol disciplines. Based on the testimony of his own verses, Farid is believed to have led a life of over nine decades. As for his poetic compositions, extensive documents in states other than Punjab had to be explored, particularly Rajashtan of the 17th century and Maharashtra of the 14th century.
Two followers of Dadupanth, namely Rajab and Gopaldas, preserved in their 'Sarvangi' handwritten accounts in Rajasthani, alluding to Farid's verses which were found to be similar to several of the shalokas contained in Guru Granth Sahib. Similarly, a number of sheets written in Persian script, nicely imprinted in the present volume, eloquently speak of Baba Farid's Punjabi verses making their way into Maharasthra. The conclusion thus emerges that Farid Shakarganj of Pak Pattan was the exclusive author of Farid Bani.
Other important features of the book are: the Persian sources, such as Fawaid-ul-Fuad, Khairul Majalis and Siarul Aulia, outlining Farid's life-history, etc. A sketch of Faridkot's relation with Baba Farid, supported by lively pictures of the shrines associated with his name. And the listing of fulsome literature published on the life, writings and teachings of the poet in Punjabi (Gurmukhi and Shahmukhi), Urdu, Hindi and English. All this transforms the book into a virtual Mahaan Kosh, an encyclopaedic reference book on Baba Farid.
This large-size volume indeed has ornamental value for the reader's personal collection as well as libraries of colleges, universities and other institutions.