Food talk
Say it with cinnamon
This delicately aromatic spice is a versatile ingredient to play with, writes Pushpesh Pant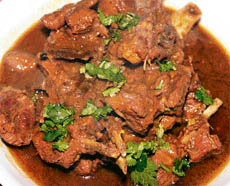 When one was a child, growing up in the hills in days before broad-spectrum antibiotics and fancy anti-allergy medication cough and cold were treated with medicines 'compounded' by the local pharmacist. Cinnamon oil administered with powdered sugar, was one such remedy. It was years later that one made acquaintance with it as a spice. It was even later than one encountered the fantastic fiction crafty Arab traders had concocted to justify charging exorbitant prices for it during the period they dominated the spice trade. Phoenix, they claimed, made its nest with cinnamon sticks and these were repeatedly reduced to ashes as the noble bird burnt itself to be reborn even more resplendent.
Great risks had to be taken to procure it. The best quality of cinnamon comes from Indonesia and Sri Lanka. Many cooks pass off inferior cassia as the real McCoy and even get rewarded by their gullible patrons with epicurean pretensions. We must confess it was rustic 'Bire' from Amritsar who enlightened us about the fake. (His creation bhatti murg masala relies not on cinnamon but on mugga aka cassia but that is another story).
We have always felt that there are few spices that are so underplayed as dalchini or cinnamon. It is, for some inexplicable reason, associated with foreign cuisines and desserts. Delicately aromatic with just a suggestion of sweetness, it is an ingredient to play with and work magic. We were happy to see dear old dalchini given its due when a friend fed us dalchini gosht — a mutton curry with a difference — here cinnamon is not a handmaiden but the queen.
Gosht Dalchini
Ingredients
Mutton pieces (leg or shoulder) 1 kg
Ghee 125 gm
Onions (thinly sliced) 60 gm
Black cardamoms five
Cloves 10
Cinnamon stick 1x2 inch
Peppercorns 10
Coriander seeds powdered 1 tsp
Cinnamon powder `BD tsp
Red chillies powdered 1/2 tsp
Turmeric 1/2 tsp
Ginger paste 2 tsp
Yoghurt (thick) 1 kg
Fresh coriander leaves (chopped) 1 tbsp
Salt to taste
Method
Heat ghee in a heavy bottomed pan. Add cinnamon, cardamoms, cloves and peppercorns. When the whole aromatic spices begin to crackle, add onions and fry them to a golden brown. Add meat along with salt, coriander and turmeric powders. Stir-fry for about five minutes, sprinkling water, if necessary. Then add red chillies and ginger, and keep cooking for another two to three minutes. Add sufficient water to just cook the meat till tender. Sieve yoghurt through a muslin. Add yoghurt and coriander leaves to the meat, sprinkle cinnamon powder and stir. Put on dum till ghee films on the surface of the gravy. Serve with rice or roti.