GARDEN LIFE
Lily of the day
Kiran Narain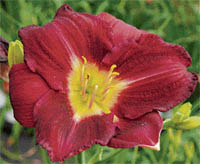 Daylilies can grow well in the sun as well as shade and do not require much maintenance
Daylilies or hemerocallis, originally grown in Asia, are easy to grow and make excellent garden plants. The orange and yellow funnel-shaped flowers are borne in numbers on strong stalks which come out of lumps of strappy leaves. These will adorn your garden for years together, without requiring much care.
Since individual flowers of these lilies last only for a day (thereby the name daylily) and close by late evening, they were not very popular with garden lovers. However, many hybrids that have been developed over the years which offer a wide range of colours — from apricot to deep maroon and copper and come in heights ranging from dwarfs of 12 inches to giants of 6 feet and various varieties, the blooms of which last for two days.
In some states of America, the highway department has made a liberal use of hemerocallis to cover up steep banks in all types of soil. The heavy root system and clumps of strappy foliage check soil erosion. At the same time, the colourful blooms add to the joy of passers-by. Even when the plants are not in bloom, the arching foliage fills the landscape with greenery.
Daylilies or hemerocallis are unique herbaceous perennials which flourish both in the sun and shade and dry as well as wet soil, adapting themselves to different soils. They can be planted beside a water garden, as a border or on slopes to bind the soil. Once planted, they multiply without much effort. The maintenance is practically not required. They bloom from May to August-September in colder climates and April onwards in the plains. Although some hybrids are evergreen, the foliage of most daylilies dies down during winter, only to come up a month or so later. Propagation is done by dividing established dormant clumps. Manual cross-pollination gives an abundance of seeds which are easy to germinate but may take a couple of years to flower.