Age of living life to the full
These senior citizens have added meaning to their years by doing things they are passionate about. The zest of these golden oldies proves that the later years can be as beautiful as the summer of their lives, writes Usha Rai
A lot of people believe that life is over with retirement. But today people are living longer and enjoying the time given to fulfill desires, ambitions, hobbies they could not indulge in when they were caught in the nine to 5 routine of a working life. Nothing demonstrates that age is all in the mind than some remarkable golden oldies who have a zest for living.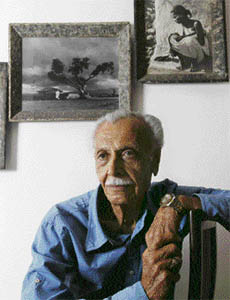 Chander P. Dhawan: Travel and photography are the driving forces of his life
Krishna Satyanand, an 81-year-old social worker whose work begins at 10 am at the Servants of People Society complex in Lajpat Bhavan every Monday, Tuesday and Friday. On Wednesday, she oversees her other pet project, the senior citizens home Godhuli that she has set up and nurtured at Dwarka since 2002. She works with the Sisters of the People, the women's wing of the Servants of People Society, started in 1981 with a focus on poor children. The founder of the Society was the legendary Lala Lajpat Rai.
"The place where I work is like a mandir," says Krishna. She and her 40 colleagues in the women's wing work on a voluntary basis. They do not even take money for transport and telephone.
The Society had accommodation in Madangir and in it the first balwadi and tailoring centre was started in 1981. Today they run 27 balwadis in 18 locations in Delhi, a home for senior citizens in Dwarka and five tailoring centres which have trained over 1000 women. The balwadis cater to 925 indigent children from the poorer areas of the city. Besides providing nutritious mid-day meals and day-care facilities, the Society ensures that children are mainstreamed into education. Taking advantage of the government ruling that private schools should reserve 25 percent of their seats for the economically backward sections, every year about 15 per cent of the children from these balwadis are accommodated. Another 60 per cent go to municipal and government schools.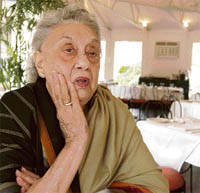 Bhicoo Manekshaw cooks as well as supervises at the Basil and Thyme restaurant at the Santushti complex
The Society steers clear of government funding because it comes with too many conditions. Fund-raising, a major challenge for the Sisters of People, has now become a major focus for Krishna Satyanand. Even in 1981, when she set up Sisters of the People, she was told quite clearly "Lajpat Bhavan is your umbrella but you have to raise your own resources."
The first year she raised Rs 5,000 and was ecstatic. A few women had got together in the basement of her home with some pieces of cloth from their homes and made them into tray clothes and table mats embellished with embroidery and lace. To run the balwadis, to get books, uniforms and provide mid-day meals they need Rs 30 lakh.
The Sisters of People even run a thrift shop. People donate clothes, unwanted furniture, lamps, crockery etc and this is resold by the shop and the money ploughed in for running the balwaris. More recently, a book shop has been set up—again based on donations. These books are sold and the money used for running facilities for the poor. It has taken the women's wing 26 years to acquire their present status. For the last six years they have been doing well. Her other passion is care of the elderly. The senior citizens home in Dwarka is one of the best private homes for the elderly on an acre of land. It has two lifts, a small garden, a walkway, a library, lounge, dining-hall and even a croquet court. Soon after she started work at Lajpat Bhavan, Lala Sevak Ram who was heading the Society, asked her if she could like to run an old people's home in a house built on a 300 sq yard plot in Jor Bagh. It was donated by a man who had no children. There were seven to eight seniors in the home and all of them were fairly affluent people from Jor Bagh and its vicinity. She realised soon that no two old people can share a room. They had different hours of sleeping, listening to music etc. So the home was sold and with Rs 35,000 the acre of government land was purchased in Dwarka.
Finding resources and setting up an architecturally ideal home for the elderly has been a challenge but today there are 54 seniors happily housed in the home. Tambola evenings and movies have livened up life. Children from a school in the neighbourhood come and visit the seniors and entertain them. Krishna recalls the 90th birthday of an inmate which the school kids celebrated. They brought a cake, gave him a card which all of them signed and sang for him. The old man wept and said it was the most beautiful birthday he had celebrated. He died a few weeks later but Krishna hopes it was with the thought that he was loved and cared for.
"It is my work that has sustained me," says Krishna. "I have no time to think of illness." She keeps fit by working on the treadmill. She turned vegetarian 30 years ago and her diet is simple and nutritious.
Recipe of youth
Bhicoo Manekshaw, elegant with her short, elegantly set silver hair, finger nails neatly manicured is 85 years and proud to be so. One of the best-known names in the world of gastronomical delights, she arrives before 11 every morning at her son-in-lawrestaurant Basil and Thyme at the Santushti complex. She oversees the menu for the day and makes the soups, sauces and desserts for the day.
"It's food `85.cooking that keeps me going," she says. She has one of the largest collections of cook books and loves to read them as much as she enjoys cooking gourmet meals. "I don't fiddle around with classics, be it roast beef or fish meuniere but otherwise experiment happily with my cooking."
Coming from a traditional Parsi background, Bhicoo recalls that it was the excellent Parsi and continental food served at her parents' home that enthused her about cooking. The cook was a Goan who had specialised in both cuisines. In school, Bhicoo was not interested in neither science nor French. She could not imagine how these subjects would help her in life. She opted for domestic science because it would help her to become a good housewife and she excelled in continental cuisine.
Bhicoo has written three books on cuisine. Wife of Air Vice Marshal J.H.F Manekshaw, from the Air Force wives she collected traditional Indian recipes and came out with her first book in the early 1970s. Her second book on Parsi food and customs was a runaway success. She would get calls from Dubai, Iran and other places from ecstatic Parsis who had conducted the Navroz festivities culling out the finer intricacies from her book. Finally in 2007, she produced the coffee-table book—Feast of Love—50 Classic Recipes.
In the early 1960s her husband was posted in London and she literally fought her way into doing an advanced three months course of Cordon Bleu. Only 10 people are taken for a course and they had all booked a year earlier. But since her husband had a short posting she could not wait to get into the next batch so she sought an appointment with the principal and showed her recipes. She even gave a demonstration of her culinary prowess and was accepted for the course the same year.
She has shared her joy of whipping up mouth watering dishes with Air Force wives from all over the world. She has been a consultant for food and recipes to the Western Hotel in Bangalore and the India International Centre. Air India flights as well as VIP flights from India served her menus.
How does this 85-year-old keep fit? I don't like walking, she admits. Early mornings and after sunset she sits in her verandah in Hauz Khas and listens to bird songs. Her garden has a huge mango tree and she watches the birds darting in and around the tree. She soaks in the serenity of the mornings and evenings. She eats everything but to prevent herself from putting on weight she always gets up from the table thinking, "I could eat a little more". She does Suduko to keep the brain ticking and devours three newspapers a day. "I can spend hours pouring over my cookery books. It's unfortunate I can't take them with me to the next world", she quips. Her two daughters drop in to see her every day. "Each of them is equal to 200 boys", she says.
Bitten by travel bug
Slender and wiry, Chander P. Dhawan can be seen in the swimming pool right through the summer months. In winter, he's out walking and catching all the sunshine that he can. His pet hobby is writing and taking travel photographs. In fact at the age of 85, this intrepid young oldie will be hosting his first photography exhibition at India Habitat Centre, Delhi, this month. A corporate boss in the Tatas when he started his career now, he calls himself a pictorialist.
On India's 57th Republic Day in 2006, HelpAge India honoured him with the Ageless Spirit of India award. In fact, HelpAge has been showcasing the energy and spirit of Dhawan. The exhibition of 55 of his photographs will be sponsored by them.
Dhawan has travelled through the Bandhavgarh National Park taking pictures of nature at its pristine best and the wildlife of India. Three years back, he went by road to Leh reaching a height of 17,700 feet above sea level to capture the picturesque snow and glaciers. In 2006, with his trusty camera as companion he travelled through Europe — Italy, Switzerland, Germany, Belgium, Holland, Paris and London. It was a package tour and every one was with a spouse or girlfriend. He was the only tourist with a camera for a companion. "There was no time for boredom", he says. Dhawan does not shoot randomly. He chooses his frames carefully and clicks just one picture.
Though photography has become a passion now, he was always interested in it. He was the founder president of the Bihar Photographic Society and ran it for 15 years when he was working with the Tatas at Jamshedpur. His first picture appeared in the magazine of the Photography Society of India in 1950 and won him a certificate of merit. He now does travel stories and pictures for travel magazines.
Dhawan's day begins with 90 minutes of asanas, pranayam and meditation. Otherwise I don't feel I have earned my breakfast of papaya, dalia and badam soaked overnight, he says. Lunch is frugal – khichri or a pulao. He is largely a vegetarian, except when he is partying. While many people worry about retirement, he has written an article on how rosy retired life can be. Retirement may be the autumn of life but there is nothing nightmarish about it, he says. Trees are laden with exciting hues of yellow, orange and rust. 's autumn can also be made beautiful if we have the desire and the inclination to add colour to it through positive thinking!"