Forget history, enjoy the film
The spectacular scenes in Jodhaa-Akbar will keep the viewers riveted, says Shakuntala Rao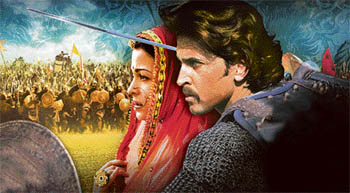 The minds of Jodhaa and Akbar work along lines in accord with contemporary life
No one has tried a revisionist take on irate elephants, sweaty-torso, and clanging-steel epic as cleverly as Ashutosh Gowarikar's Jodhaa Akbar. All the brouhaha about the lack of authenticity in depicting Emperor Jalaluddin Muhammad Akbar's story is a misnomer: this film (contemporary in its display of Tanishq jewellery, designer haircuts, and picture postcard resort hotels) is an allegory for the present day.
Remember Elizabeth Taylor's Cleopatra in the 1963 epic — a woman of force and dignity, fired by a fierce ambition to conquer and rule the world through the union of Egypt and Rome? In her was impressively compacted the arrogance and pride of an ancient queen. But Taylor's depiction of Cleopatra was not of an ancient queen given her feminist inclinations and exceedingly low-cut gowns. Similarly Gowarikar is not interested in historical copies. The minds of Jodhaa and Akbar work along lines more in accord with contemporary life than 16th century rulers. Movie reviewers, protesters, and politicians have it all wrong: Gowarikar's glossy film has little to do with Mughal or Rajputana history. The extent to which 'history' is evoked is in minor footnotes easily found on wikipidea or an Amar Chitra Katha. Rather Jodhaa-Akbar is homage to spectacular filmmaking of yesteryears, from Mughal-e-Azam, Cleopatra to The Ten Commandments.
True that Hrithik Roshan growls through the film (screaming "Khamosh" at least 12 times), he is not all glower. If one can shut out fleeting memories of Prithviraj Kapoor (Roshan's no-nonsense baritone even sounds faintly like Kapoor's voice), Dilip Kumar, Richard Burton, Charlton Heston and all film greats who have appeared in historical epics as galactical figures, Roshan is surprisingly adept at displaying a ball-of-fire rage and gentle nobility when needed. His Akbar is a study in political ambiguities and contradictions.
While limited in her acting finesse, Aishwarya Rai's Jodhaa is no arm candy. She is clever, passionate, and a master fencer. It is her varied dispositions and approaches to Akbar that mark the dramatic pattern of what could be a present-day relationship. She makes demands of her husband, vocally expresses her disappointments, and pouts to sleep.
The battle scenes have the exultant lift of action-packed historical genres of Mel Gibson's Braveheart and Ridley Scott's Gladiator where the fights have eye-popping panache complete with chest puffing and bloody beheadings. The characters are plausible people, maturely conceived and turned loose in a realm of political intrigues, conflicts and thrusts for personal power. They speak of messy matters, of interfaith marriage, of communalism (which has ravaged India's recent history), and religious tolerance.
Forget the fantastic sum that Jodhaa-Akbar is reported to have cost. Forget the length of time it took to make it and all the tattle of troubles they had, including the behaviour of two of its spotlighted stars. Forget historical objectivity and the movie's ban in many states. This is tremendous cinema envisioned supremely by a clever director and for this alone you can't take your eyes off the screen even though you may be confused by the film's purpose or appalled by its historical inaccuracies.