Mark of Madhubala
The release of a five-rupee stamp on Madhubala is a tribute to her timeless appeal, says M.L. Dhawan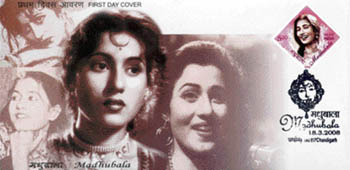 A first day cover and five-rupee stamp on Madhubala was released on March 18
The only actress other than Nargis to have a postal stamp in her name is Madhubala. Through the stamp, which was released on March 18, this year, Madhubala will be remembered forever. Madhubala was one of the most beautiful stars of the film industry. When Madhubala swirled her skirt, flashed that 440-watt smile and crooned Aaiye meherbaan she enamoured one and all. Her olive complexion required no artificial aid. Baburao Patel described her as the Venus of the Indian screen.
When she played a gardener's daughter in Mahal, Madhubala haunted the audience with her mysterious fleeting appearance. The faraway look in her eyes as she swayed on the swing, singing Ayega aanewala remains ever-enduring image even half a century later.
Her coquettish come-hither looks, the sensuality she imparted to the most innocent gestures made stalwarts like Dilip Kumar, Ashok Kumar uncomfortable in her presence. In Sangdil, Dilip Kumar who was paired with her had to give 16 retakes. Wearing a beard and a turban and dressed as an astrologer, he faltered in a tender romantic scene in which he sought the love of Madhubala.
Tarana starring Dilip Kumar showed Madhubala's potential as an actress and her ability to slip into the skin of the character. It is difficult to say whether it was the high intensity scenes of the film or whether it was the budding romance off screen that lent their on screen romance an intensity when they sing 'Nain mile nain huy banware/Ab ruke n preet ki yeh nav re' in the film.
Countless filmmakers have drenched their heroines but no one has ever looked as irresistible and seductive as Renu (Madhu) in Chalti Ka Naam Gaadi who landed up in a garage at the dead of night, dripping wet, clad in sheer chiffon-saree, sneezing clumsily and arrogantly demanding that her car be repaired immediately. The undercurrent of romance between a haughty damsel-in-distress and a motor mechanic in a place as unromantic as a garage was so effective because of the genius of Madhubala and Kishore Kumar.
In Mughal-e-Azam, she depicted love, despair, remorse and guilt with felicity. In a scene when Akbar walks in on Salim and Anarkali, the expression of fear on her face is unforgettable. In another scene, with a voice seeped in sorrow and redolent with repressed fear, she said 'Anarkali ne Shenshah Akbar ko apna khoon maaf kiya' when Akbar pronounced death sentence on her.
The most enduring image of Madhubala is when she challenged the might of the Mughal empire/monarchy while singing Pyar kiya to darna kya'.
Her moon-shaped face, partially covered with strands of hair, glistening cheeks, limpid eyes coupled with crooked lopsided smile-Madhubala had a face to die for. When Salim caresses her face with a feather it makes him forget everything: family, royalty, hierarchy and the protocol in Mughal-e-Azam.
Her legendary romance with Dilip Kumar caused much anguish. On the sets of Sangdil, Tarana, Amar and Mughal-e-Azam, they had got inexorably drawn together. Torn between two strong-headed men, it was the young and in love Madhu who suffered. She had to give up the man she adored for an insensitive father who would not let go his golden goose. In the long period of 10 years that K. Asif took to complete Mughal-e-Azam, Madhubala's own love story took a tragic course. Her congenital heart problem had been discovered much before Mughal-e-Azam but when she fainted on the sets of Mehlon Ke Khawab, a well-known cardiologist declared her ailment incurable. She completed Mughal-e-Azam and other pending assignments with a doctor attending to her on the sets. For nine years, she lingered on bedridden with an oxygen cylinder as her constant companion.
On February 23, 1969, she breathed her last. Four decades after her death, she is remembered with much fondness. They say a flame that burns twice as bright lives half as long. Splendid, talented and gorgeous, Madhubala is that rare star whose fame is still intact and the postal stamp salutes her creative prowess and beauty.