No serious cinema, please
Arpana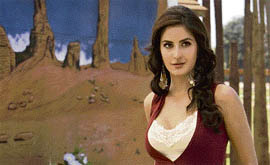 Katrina Kaif
Katrina Kaif, who gave the maximum hits among all Bollywood actresses last year, says she is having a ball doing commercial films and has no plans to venture into "serious" cinema right now. "I am pretty clear about what I want to do. I donít want to go down the road doing serious cinema. I am happy doing commercial films. The fun films give the audience time to escape the monotony in everyday life," Katrina said in an interview.
"I love what I am doing and there is plenty of time to do serious films. I am sure I will do them. But at this point I am really enjoying myself and I love dancing, I love the characters I am playing. Last year, I did a lot of comedies, at the same time I did Namastey London which was a fantastic character. This year, I have a slightly greater variety of roles." She was here to promote the film Race, which will be her first release of the year. Directed by the duo Abbas-Mustan, the film also has a host of A-list actors like Anil Kapoor, Saif Ali Khan, Akshaye Khanna and Bipasha Basu.
"I donít want to give away too much about my role because it is a suspense film. My character has a lot more shades. She is something you donít expect from me. I saw the first print of the film. It is a very tongue-in-cheek kind of film and not to be taken very seriously. "It is one of those films where good guys are really good and bad guys are even worse. It is like those heightened novels of Agatha Christie where everything is a little exaggerated. The overall experience was truly entertaining." Her kitty is full of hits like Partner and Welcome. After so many hits in a row, where do you place yourself in filmdom? "I donít think itís a matter where you place yourself. Itís a matter of how your fan feels about you and where the industry finds you. At this particular place I think I am lucky to be able to say that I do get offers for a lot of film." Now she has moved on to bigger banners like Yash Raj Films. "Yes, I am doing a Yash Raj film with John Abraham. Neil Mukesh is also in the film. I think the best if they (producers) speak about the film. It is a completely different genre and not something I have done before."
Apart from that she will be seen in Singh Is Kinng with Akshay Kumar and in Rajkumar Santoshiís next film, Ajab Prem Ki Ghazab Kahani, with Ranbir Kapoor.
"Singh Is Kinng is a comedy. Rajkumar Santoshiís script is one of the best scripts I have ever heard. It will be a new experience for me." In all these films, Katrina is paired with the younger lot of actors. Ask her if it is a conscious move, she says: "It just happened. The whole set up has to be good and the script is very important.
"You know that if Akshay (Kumar) and Salman (Khan) are in the film, they can pull off even a bad script. But when you are working with a new team, you have to be really sure of the whole project. It took me some time to select the films." ó IANS