ulta pulta
Cheers to cricket
Jaspal Bhatti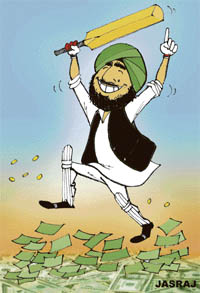 When the relations between Pakistan and India were at its lowest, the cricket series in 2004 played a pivotal role in rebuilding them. For the first time, Pakistanis were seen cheering Indian players and vice-versa.
Since then, people have started finding solutions to various problems through cricket, even if the problem is financial, diplomatic or related to the entertainment industry.
In the recent cricket match at Mohali between the Congress and the Akali-BJP combine, Bhagwant Mann, Punjabi comedian who was giving live commentary of the match, suggested, "If the Punjab Government played more matches, the revenue collected could solve the problem of the diminishing reserves in Punjab". Exhibition cricket matches of filmstars have been used to raise funds for long.
The friction between Captain Amarinder Singh and Rajinder Kaur Bhattal has resurfaced. A Congress worker suggested that if a cricket match could create cordial relations between the SAD and the Congress, then why not have a match between Bhattal XI and Amarinder XI. If the Badals cheer Bhattal's team, Amarinder's allegations that Bhattal had colluded with the BJP-Akalis would automatically be proved right. If the Badals cheer Amarinder, Simranjit Mann would get a chance to say that the Akalis were hand in glove with the Congress.
Cricket can solve many problems but what about BCCI's internal organisational friction? They could, then, perhaps play hockey to ease their tension.