M A I N N E W S
Price Rise
Left, UNPA to launch joint nationwide stir
Tribune News Service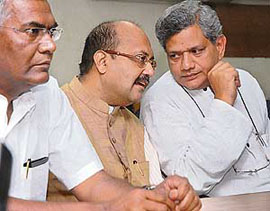 (From left): CPI leader D. Raja, UNPA leader Amar Singh and CPM's Sitaram Yechuri at a joint press conference in New Delhi on Sunday to announce nationwide protest against price rise from April 16. A Tribune photograph
New Delhi, April 6
The Manmohan Singh-led UPA government at the centre faces a political challenge on account of spiralling prices. Two of its outside supporters, the left parties and the UNPA today announced a week-long, joint, nation-wide protest starting April 16 against the government's failure to curb inflation.
Addressing a joint press conference, leaders of these parties charged the government with betrayal of 'Aam Aadmi' (common man). They demanded strengthening of public distribution, a ban on futures trading in agricultural commodities, a cut in customs and excise duties on oil and stringent action against hoarders of essential commodities.
"We feel the measures taken by the government so far are inadequate. The diagnosis of inflation is wrong", CPM leader Sitaram Yechury said. He asked the government to take immediate steps to arrest this runaway rise in prices of essential commodities that are imposing untold misery on the common people. CPI leader D. Raja said if the UPA government did not take prompt and effective steps quickly, it might have to pay a heavy political price. He suggested said the struggle had to be sustained.
Samajwadi party leader Amar Singh said in the past his party had raised its voice jointly with the Left on various issues like the Indo-US nuclear deal and this time, too, they were solidly behind the Left on the issue of price rise.
K. Yerran Naidu of the TDP said the government was not functioning for the common man, who had helped it to power, and accused it of betraying the common man. The leaders in a joint statement expressed concern over the wholesale price index breaching the 7 per cent barrier. This figure of 7 per cent inflation, however, concealed the real extent of the burden being imposed on people with the massive rise in prices of essential commodities, they said.
During the last year the price of edible oils had increased by over 43 per cent, rice by 20 per cent and pulses by around 18 per cent. The increase in the prices of foods and vegetables also was similar.