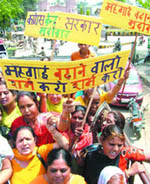 Inflation ire
Amritsar, April 8
The members of the mahila morcha of Bharatiya Janata Party held a protest rally against the central government for its failure to control the rising prices of essential commodities. The agitators also held a dharna near Hall Gate obstructing the traffic for more than an hour, causing great inconvenience to commuters. The police had a tough time controlling the traffic in the area and the people had to take long detours to reach their destinations.

The BJP mahila morcha members protest against inflation in Amritsar. — A Tribune photograph
The Cinderella Story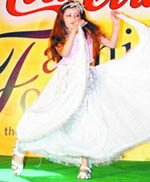 A young girl puts up an exhilarating performance during a cultural programme in Amritsar on Tuesday. — Photo by Vishal Kumar
Summer Signature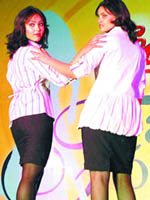 Models walk the ramp flaunting the latest summer collection in Amritsar. — A Tribune photograph
Bhatia, Soni bury the hatchet
Amritsar, April 8
Kerala Governor R.L. Bhatia and his bete noire Om Parkash Soni, Congress MLA from Amritsar (west), seem to have finally buried the hatchet.
Cantt Board Poll
'Four constituencies more than enough'
Amritsar, April 8
A former Cambridge Blue and an old residents of the cantonment area, Swarnjit Singh, has raised many pertinent issues with regard to cantonment board elections to be held next month. Swarnjit Singh in a missive to the GOC-in-C of Western Command have raised some issues regarding cantonment board elections, which had been due for a long time and have finally been announced after many representations by residents.
Raising a voice against femicide
Amritsar, April 8
The Sham Samwad organisation staged a play "Khuh Bolda ha" at Punjab Natshala here. The work highlights the menace of female foeticide, especially pointing finger at the 'dubious' role of the men folk.
Campus Buzz
Campus placement for 250 students
Amritsar, April 8
As many as 250 students of the next batch, belonging to various academic disciplines, including M. Tech, MCA, MSc and B. Tech of Guru Nanak Dev University have been placed in different multinational companies before the completion of their formal studies.
Pritpaul comes up with another laugh riot
Amritsar, April 8
Lack of quality humorous literature motivated him to write and collect jokes and translate them to Punjabi language. He has now come up with his fourth book "Dab Ke Hasso."
Check-up camps mark World Health Day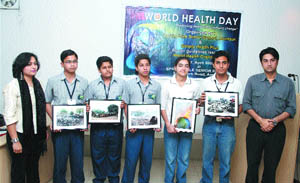 Amritsar, April 8
A mobile free health check-up camp was organised near Kotwali here for the citizens of the holy city by Fortis Escorts Hospital to mark World Health Day. A team of doctors, led by Dr Gaurav Thukral, Dr Maninder and Dr Iqbal, examined more than 500 people.

Students of Spring Dale School display pictures of various garbage sites in the city on World Health Day. — A Tribune photograph
Biz Buzz
Get the right shade
Amritsar: In order to help the denizens of the holy city to cope with the blistering heat, besides adding style to their summer look, Himalaya Opticals unveiled its latest summer collection here on Tuesday.
Cycle expedition to observe Earth Hour
Amritsar, April 8
International environment campaign group WWF along with several other NGOs including Mission Aagaaz, Amritsar Vikas Manch, New Hope and Jeewan Jagriti here organised a cycle expedition for energy conservation campaign launched all over the world recently.
Clerk held taking bribe
Amritsar, April 8 The vigilance department today nabbed Sukhwinder Singh, head registration clerk posted at the deputy commissioner office, for allegedly demanding Rs 1,000 as bribe for issuing a licence for deed writer to one Avtar Singh.
Office-bearers
Amritsar: The office-bearers of the District Petrol Dealers Association appointed by president Yoginder Pal Dhingra are: vice-presidents-Satish Kumar, Atma Parkash Ram Lubhia, V.B. Singh Gill, Dharam Chand, Ayodhia Nath Sharma and Avtar Singh ; general secretary-Vijay Tandon; secretaries -Amarpal Singh Randhawa, Avtar Singh Khassa, Navtej Singh, Ashwani Kumar Sharma, Ajnala, Tarlok Singh and Charanjit Singh; finance secretaries-Harmohinder Singh Bedi and Sonu Bajaj; and cashier-Atul Mehra. - TNS