Mega Makeover
Mohali is finally set to don a million dollar look, courtesy PIDB.
Chitleen K. Sethi gives a low down on mega projects that will transform the image of Chandigarh's 'poor cousin'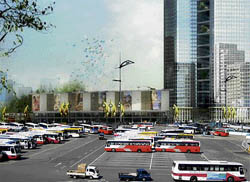 An international makeover seems imminent for Mohali, as the city's skyline will soon be dotted with magnificent structures complementing the international airport project. The IT Tower in Sector 67, Habitat Centre building in Sector 68 and the first of its kind state-of-the-art bus terminal in Sector 57, all envisaged under the private-public partnership mode, are expected to turn this poor cousin of City Beautiful into a showcase of Punjab's indomitable spirit.

Picture source PIDB website. For illustrative purposes only

Nestled in the Greens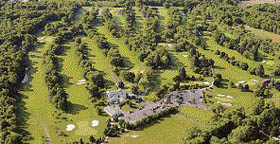 Having a sprawling home right next to a golf course is the latest USP that major builders are offering to premium segment clients all over the country
Residential dwellings built around a golf course are the latest buzzword in the super-premium housing segment of the Indian realty industry, estimated at $15 billion and growing at 35 per cent annually.
Ushering in the Megaplex Era
You've heard of multiplexes. But now entertainment conglomerate Adlabs Cinemas has drawn up a plan to build 12 megaplexes in India where you can not only see movies but also cricket and soccer matches on screen! Unlike five to six screen multiplexes, the megaplexes will have 11 to 15 screens with a seating capacity to accommodate 4,000 to 5,000 persons in each of them.
GREEN HOUSE
Get your palm correct
Sometimes plants of different species are 'palmed off' as palms. Satish Narula helps us to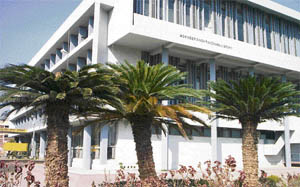 distinguish between real and fake palms
We have all heard about palms. This usually is the first plant that a gardening enthusiast puts in his home garden. But not many are aware that many plant species that are often referred to as 'palms' are not only different from palms but are also not even remotely related to that species of plants. Here is a guide to distinguish real palms from those that are wrongfully referred to as palms.
Tax tips
Legalities of gifting property to son
Q. I am a senior citizen and government pensioner and 'karta' of an HUF. My son is settled in Ludhiana and has a three-room house. I have constructed a two-room set on the first floor of the said house. Both me and my wife are unable to climb stairs on account of pain in legs and hence I want to gift this portion to his HUF so that rent from this portion is treated as HUF income for him. I also want to give a part of Rs 2 lakh as gift to his HUF. This amount represents my accumulated PPF.
'Make real estate part of college curriculum'

Real estate, housing and urban development issues should be included in the college curriculum to make the infrastructure industry more professional, K.P Singh, chairman of the DLF Group, said here last week. "There is a mushrooming growth of thousands of fly-by-night builders who made rampant unauthorised constructions all over the country," he said at the seventh graduation day of the Indian School of Business, here. "This in turn led to haphazard growth and cities are now full of unauthorised shanties, slums and a substandard urban infrastructure," Singh added. "To rectify this situation, we have to make a new beginning.
Emaar plans big to boost tourism in West Bengal
The West Bengal government has signed an agreement with real estate player EmaarMGF Land Ltd and city-based Sinclairs Hotels aimed to boost tourism sector.
Realty bytes
C & C Constructions bags Rs 574 cr contract
Mumbai: C & C Constructions has bagged a Rs 574 crore contract from Jaypee Associates for the construction and development of a four-lane road passing through Himachal Pradesh, Haryana and Punjab. The company has received the contract for building the road from Zirakpur in Punjab to Parwanoo in Himachal Pradesh (HP) across Haryana, it informed the Bombay Stock Exchange adding that the project is expected to be completed in 26 months.
Buzz on bourses
Ask plans realty fund by June
Mumbai: After exiting its stake holding in the institutional broking arm JM Financial Ask Securities, Ask group plans to launch a private equity with an initial corpus of $ 100 million, besides a real estate fund by June, a top official said. Ask Group had recently sold its 40 per cent stake in the broking JV to the majority shareholder, JM Financial, for a consideration of Rs 81 crore. Ask Group's chairman Asit Koticha told PTI that the firm is set to launch a private equity fund in 2-3 months with an initial corpus of $100 million and is in talks with more potential investors to invest in the fund.