food talk
Sweet & sour delight
Khatmitthi macchli is easy to cook and healthy, writes Pushpesh Pant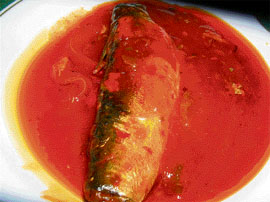 One talks and hears almost endlessly of the Chinese sweet and sour repertoire — both vegetarian and non-vegetarian — overlooking, as is our wont, our own treasure trove.
True, in Bengal as well in Hyderabad, the twain meet oftener than elsewhere, and the Gujarati brethren and sisters add gur and meethu (salt) in their recipes. By and large, the desi recipes play it safe with either taste. Seldom is the jugalbandi allowed equal billing.
Our younger sister, a vegetarian herself, is an innovative adventurous sort in the kitchen. She recently 'fused' many different culinary streams to create the khatmitthi macchli for us. We are glad to report that the results were more than satisfactory. We have no hesitation in recommending it our readers with the remark that the recipe is not only a novelty but easy to cook and healthy.
Chef's special
Ingredients
Fish (small, whole) 500 gm
Tomatoes (pureed fresh) 500 gm
Onion (medium-sized, grated) one
Bay leaf one
Dhania powder ½ tsp
Sugar 3-4 tbsp
Dried ginger powder 1 tsp
Pineapple tidbits (blended coarsely in a mixie) ½ cup
Vinegar ¼ cup
Oil ¼ cup
A small pinch of haldi
Salt to taste
Method
Wash and clean the fish. Slit lengthwise and remove the entrails. Wash well again. Apply salt and haldi and let it rest for half an hour. Heat oil in a thick-bottomed pot. When it reaches smoking point, put in the bay leaf. As the leaf changes colour, add grated onions and stir-fry till these become translucent. Now put in the tomato puree along with the powdered spices, salt and sugar. Stir well and add cook on medium low heat. Add a cup of boiling water and reduce to simmer. Add the fish and cook on low medium heat for five minutes. Remove the fish carefully and keep aside. Increase heat and thicken the sauce to preferred consistency. Pour in a dish, add the blended pineapple pieces, replace the fish, adjust seasoning and serve with rice or roti. If like Babur, founder of the Mughal dynasty, you are squeamish about fish bones, try this out with boneless fillets. We on our part don't think it matches the eye appeal but as the adage has it each to his own. The same applies to retaining or removing the skin.