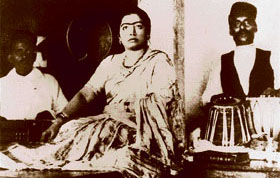 Melodies on record
Much before playback singers entertained listeners, a host of accomplished performers recorded songs and ruled over people's hearts.
Pran Nevile brings alive a few forgotten celebrities of the gramophone era.


Gauhar Jan: A legendary singer of the late 19th century and the first to be patronised by the Gramophone Company.

Caught in a web of lies
Lalit Mohan on good stories on the Net that eventually die, tainted by the truth
It is sad when a good story gets killed. Two really great ones about the symbiotic father and son relationship, which were doing the rounds on the Net, suffered this tragic fate. The first concerned a man called Easy Eddie. He was the lawyer who kept notorious Chicago gangster of the 1920s, Al Capone, out of prison for long. Eddie was rewarded well for his services.
Ambassador of humanity
He was the country's first Law Minisiter and the man behind the framing of the Indian Constitution. He was also a socialist who devoted his life to give Dalits their due. Chaman Lal pays a tribute to Dr B. R. Ambedkar, whose birth anniversary falls tomorrow
INTERVIEW
'I want to rekindle the anger'
Shekhar Kapur talks to Subhash K. Jha about his next film Paani, which is much more than about water scarcity
After winning over the West with his two Elizabethan sagas, Shekhar Kapur is back in India to "rekindle the anger" over what's happening in the world. His next film, Paani, is set in 2025 in a city polarised by water scarcity, a world divided into the haves and have-nots — those who have water and those who don't. "The reason I came back to India is to walk the streets of Mumbai and rekindle the anger that I feel about what's happening to the world," said Kapur, who refuses to drink bottled water.

Unfair to fair sex
The female actors, more often than not, are merely treated as sex symbols or fillers in a majority of Hindi films, writes Surendra Miglani
Gender bias has been always there in the Hindi film industry. It is all too visible — on the screen as well as off it. The most recent example is Ashutosh Gowarikar's Jodhaa Akbar. In a novel publicity campaign, two posters of the film were put up side by side in cinema halls. One of them had Aishwarya Rai who plays Jodhaa and the other Hrithik Roshan who essays the role of Akbar.


Earning through ayurveda
This traditional system of medicine has provided employment to women of Kerala on a large scale. The women scout for herbs in forests and farms. They are also involved in the processing and making of medicines in the labs. Some of them are qualified to start massage units of their own, writes Ajitha Menon