Ambassador of humanity
He was the country's first Law Minisiter and the man behind the framing of the Indian Constitution. He was also a socialist who devoted his life to give Dalits their due. Chaman Lal pays a tribute to Dr B. R. Ambedkar, whose birth anniversary falls tomorrow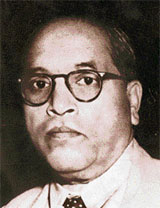 Bhimrao Ramji, who later came to be known as Dr B.R.Ambedkar or Baba Saheb Ambedkar, was born at Mhow, near Indore on April 14, 1891. He was the 14th child of Subedar Major Ramji and his wife Bhimabai. Hailing from Ambavade in Ratnagiri district of Maharashtra, the family belonged to the "untouchable" Mahar caste.
Bhimrao was just five years old when his mother died. In 1904, the family shifted to Mumbai and, at the age of 16, Bhimrao completed his school education from Elphinstone High school. The next year, he was married to Ramabai, who was eight years younger to him.
In 1912, Bhimrao graduated from Elphinstone College and joined the armed forces of Maharaja of Baroda as Lieutenant. The same year, unfortunately, he lost his father. Maharaja Sayaji Rao of Baroda awarded him a scholarship to study at Columbia University in the US. After completing M.A. in political science and PhD from Columbia University, Bhimrao joined the London School of Economics.
He returned to India as Dr B. R. Ambedkar in 1917 and joined the services of Maharaja Baroda as per the scholarship contract. However even after obtaining a PhD degree from the US, a rare feat in those days, he was subjected to untouchability. Unable to bear the humiliation, he left that service to join Syndenham College of Commerce as professor of political science. In 1920, he started a Marathi fortnightly Mooknayak (The Silent Hero).
Dr Ambedkar actually started his journey as scholar-activist in 1916, when he first presented a paper on casteism in India during his stay in the US. The publication of Mooknayak, through which Dr Ambedkar began an awareness campaign for the Dalits, is considered the second milestone in this journey. In 1920, he also participated in the first all-India conference of "depressed classes". The same year, Dr Ambedkar went back to the London School of Economics to complete his studies. He got an MS degree on his dissertation Provincial Decentralisation of Imperial Finances in British India and a DSc degree on the thesis The Problem of Rupee — Its Origin and Solution. He went to Berlin for further studies, even after attaining two doctorate degrees from the most prestigious universities of the world. In fact, Dr Ambedkar specialised in three subjects — economics, political science and law.
Returning to India in 1923, Dr Ambedkar started practising law at the Mumbai High Court. In 1924, he formed Bahishkrit Hitkarini Sabha (Depressed Classes Welfare Association). He was nominated to the Bombay Legislative Council in 1927 for a five-year term, which was extended by another five years. His role as a scholar-activist became more pronounced when in 1927 he held satyagraha on Chowdar Tank in Mahad, demanding that Dalits be given the right to draw water from the public tank. In protest, a copy of the Manusmriti was also burnt.
In the same year, he started another Marathi fortnightly Bahishkrit Bharat (Exiled India). In 1928-29, he brought out another fortnightly Samta (Equality) and the following year still another Marathi fortnightly Janta (People). That year, Dr Ambedkar also started satyagraha at Kalaram temple in Nasik, which continued intermittently for five years. He also participated in the three Round Table Conferences held by the British to discuss the future of India. In 1932, he signed the Poona Pact, also known as Gandhi-Ambedkar pact.
Dr Ambedkar suffered a personal setback in May 1935, when his wife Ramabai died. From 1935 to 1938, he remained Principal of Government Law College, Mumbai. In October 1935, he declared at the Yeola conference for Dalits in Nasik that he would embrace Buddhism, which he finally did only after 21 years, two months before his death.
In 1936, he formed the Independent Labour Party and four years later formed the Scheduled Castes Federation. In 1942, he was also appointed a Labour Member in Viceroy's Council, a position that he occupied till July 1946.
Dr Ambedkar was elected to the Constituent Assembly from Mumbai in July 1947, and on August 3, he was appointed the first Law Minister of India. On August 19, he was appointed Chairman of Drafting Committee of the Constitution of India. The draft prepared by this committee was approved by the Constituent Assembly in 1949.
Dr Ambedkar remarried in 1948, after 13 years of widowhood. He resigned as Law Minister from Nehru's Cabinet in 1951 and lost in the Lok Sabha elections the next year. However he was elected to the Rajya Sabha from the Bombay Legislative Council in March 1952. He continued to hold that post till his last day. Columbia University honoured him with Doctorate in Law in June 1952. In December 1954, he participated in the world Buddhist conference in Rangoon. To fulfil the commitment made years earlier, he embraced Buddhism in October 1956, along with lakhs of his followers. He breathed his last on December 6, 1956, in Delhi. All through this period, he was working hard and writing continuously. His work Buddha and his Dhamma and many of his other writings were published after his death.
The Maharashtra Government formed a committee to edit and publish Dr Ambekar's speeches and writings and brought out a 16-volume edition in Marathi and English. The Dr Ambedkar Foundation in Delhi is assigned the task of getting these volumes translated and published in other Indian languages.
Dr Ambedkar devoted his life to eradicate caste system. He was for socialism, but was against the use of violence to achieve it. He wanted to bring socialism in Indian society through peaceful constitutional means.