Television
Romantic thriller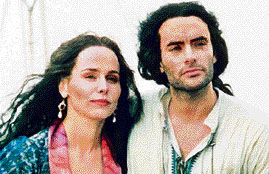 Frenchmanís Creek: A passionate love tale
Swashbuckling action and romance combine in Daphne du Maurierís famous and enduring historical novel Frenchmanís Creek on April 14 at 9 pm on History Channel. The television movie from the producers of the award-winning Rebecca by the same author is a tender romantic tale revolving around a wealthy, young and captivating Lady Dona (Tara Fitzgerald). On a whim she packs her bags and leaves her husband and the corrupt sophistication of London to seek peace and solitude in her family home in Cornwall.
But once at home, she discovers that French pirates are marauding the local community and that her home is being used by one pirate in particular (Anthony Delon). She finds herself falling in love with this man who is more a philosopher than a pirate. A truly riveting tale with all the right ingredients ó a beautiful lady, a captivatingly handsome pirate, ethereal setting. If you like romantic thrillers then this one is for you.
Sundowner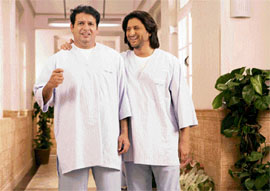 Suresh Menon with Arshad Warsi in Krazzy 4Ö tickling the funny bone
One way or another, all life on the earth relies on the sun. Yet we take this shining ball of fire for granted. Though it is 4.5 billion years old yet the sun is not eternal.
Death of the Sun on April 15 at 9 pm on the National Geographic channel investigates the sunís formation, how it powers itself, and how, eventually, the shining star will die one day.
Will it take with it all life in our solar system? Astronomers say it has already used up half of its hydrogen and in the next billion years, its brightness will increase by over 10 per cent. The result will be a critical greenhouse effect, culminating in the boiling of the earthís oceans and total destruction of life.
However, scientists predict that by then the manís brain power would have advanced so much that mankind would have moved to another planet to survive the devastating effect of the burning sun. Thereby, proving that human intellect would triumph in the face of extreme danger.
Krazzy for comedy
Heís televisionís number one funny man whose wacky brand of comedy gets more laughs than any other comedy star across channels.`A0He started off playing second fiddle to Sajid Khan, but soon made a mark with his own madcap antics and made The Great Indian Comedy Show even funnier.
Now Suresh Menon is all set to take on Bollywood. Though heís done cameos in films like Chalte Chalte, Badhai Ho Badhai and Phir Hera Pheri, he says Rakesh Roshanís Krazzy 4 is his big debut in films. "It was a great experience working with Rakesh Roshan and he brought the best out of all of us," says Suresh about the film in which he plays a character who does not say much but uses his expressions to evoke laughter. "I feel if I can make even 20 per cent of my viewers laugh, I have done my job," adds the actor. ó NF