Artful Couples
They make for excellent twosomes at work and in romance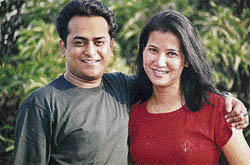 Ever heard of two like poles attracting each other? In the realm of magnetic field, it may be an absolute no-no, but in the field of matrimony, similarity does breed a fertile ground for a harmonial, or rather rocking married life. The city provides a number of examples where couples create, appreciate and even ciriticise each other in their professional lives and still lead a happy, peaceful life together.

Krishna & Sunita — Photos by Vinay Malik
Fruitful summer
Here come luscious muskmelons & watermelons!

Clouds of pleasure hovering overhead in April's first half may have delayed sour weather's onset, but the summer is still proving 'fruity' — if the high price of fruits is not a consideration, that is. That's right! The ever so pulpy and juicy mangoes, scrumptious muskmelons and luscious watermelons, oozing with vitamins and minerals, have already hit the stalls. You even have jackfruit, along with native, Swedish and German oranges.
Photo by Pradeep Tewari
Archlights Love


Little did his parents know while naming him Shreyal (beloved!) that their son would actually become people's beloved! Today Chandigarh da munda Shreyal Godara stands tall among the 21 young men shortlisted for the Gladrags Mega Model & Manhunt Contest finals on April 12. All of 21, this textile design student, INIFD is busy rehearsing catwalk, diction and more, as we catch up with him over the phone. Excited and a little confused, the youngton spills the beans on the contest, his Mumbai dreams, and more…
Taste, health & hygiene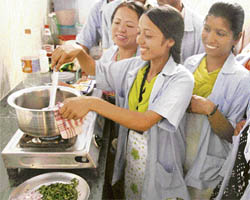 LAST week the city saw an unusual food contest. Not a fancy Sanjeev Kapoor sorts, but the one that came with wholesome goodness. The dishes came from the kitchens of Adarsh Nagar Janata Colony and the show's USP lay in the fact that each dish costed not more that Rs 2. It was a happy occasion. About 50 participants, trained by the volunteers of DIR (Developing Indigenous Resources), the brainchild of Fredrick Shaw, showcased not just their culinary skills but also their sense of hygiene.


Photo by Vinay Malik

Write to Renee
at lifestyletribune@gmail.com or Life Style, The Tribune, Sector 29-C, Chandigarh


n I am a 27-year-old guy working as a lecturer in a college in Himachal. My childhood dream has been to work for an MNC. Now, I have got admission in a MBA course. My parents have agreed to pay the exorbitant fee for the course if I marry the girl they have chosen for me. They want me to get engaged before the course.

First Day First Show
The mind game


U Me Aur Hum
Watchable
It is settled now. Ajay Devgan's directorial debut in U Me Aur Hum is not in the league of Aamir's in Taare Zameen Par. While Aamir exhibited a rare tenderness to delve deep into complex human emotions, Ajay makes a mushy love story which turns into a tearjerker the moment it starts dealing with a mental disease.