When Re 1 separated Lahore from holy city
Ex-HP addl advocate-general takes a stroll down the memory lane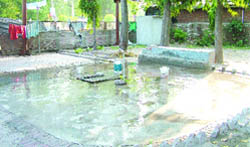 Amritsar, April 15
Believe it or not, from Amritsar one could go to Lahore by train by spending hardly Re 1 on a ticket. Many would go to Lahore on their bicycles. Wagha, now internationally known as Wagha Border, was an unknown place.
A view of the historic 'Thandi Khui' near historic Company Bagh in Amritsar. (Left top) Som Dutt Vasudeva — A Tribune photograph
Cops go for image makeover
Amritsar, April 15
Keeping in view the legal wrangles through which theft victims have to go through, the city police has decided to return the belongings to respective owners and handle legal procedures themselves. Under the drive, the police returned all the belongings seized from 14 pickpockets arrested in the past few days.
Be self-reliant, Chawla tells girl students
Amritsar, April 15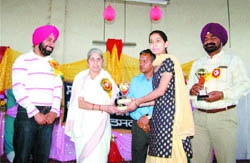 Health minister Laxmi Kanta Chawla on Tuesday urged the young girls to take up vocational and job-oriented courses to become self-reliant and contribute to the development of the nation.




Health minister Laxmi Kanta Chawla presents a trophy to a meritorious student in Amritsar on Tuesday. Photo: Vishal Kumar
'Look for Ishaan Awasthis in class'
Amritsar, April 15
Each child has unique abilities. However, parents and teachers often become so obsessed with kids' weaknesses that they fail to notice and celebrate their strengths. The fact is that a majority of educators lack critical knowledge of the human brain and the learning process.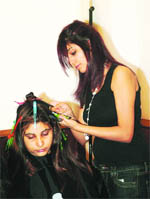 60s cult 'Sadhna cut' makes a comeback
Amritsar, Amritsar 15
Today's women have come out of their comfort zones and love to experiment with their looks. They were exploring new hairstyles and trends to embrace the latest hair-fashion. This was revealed by Nitin Manchanda, regional technical manager, Schwarzkopf Professional, during a workshop organised for the beauticians here.




A model gets a hairdo during a workshop for beauticians in Amritsar. Photo: Vishal Kumar
See clear: City gets bladeless technology for vision correction
Amritsar, April 15
Get ready for a spectacle-free life as the city gets its first "bladeless" technology for permanent vision correction at Dr Om Parkash Eye Institute.
Air Warriors spellbind audience
Amritsar, April 15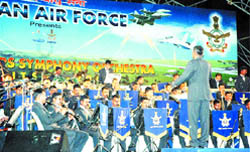 The Air Warriors of Indian Air Force organised a musical function to celebrate Baisakhi. The two- hour long performance, which was a rare ensemble of military fanfare, opera, pop, jazz, popular Hindi film and patriotic songs, was held at Panther Stadium.
The Air Warriors, a musical band of the Indian Air Force, performs in Amritsar to celebrate Baisakhi. Photo: Vishal Kumar
Soulful music: Album of 'shabads' released
Amritsar, April 15 |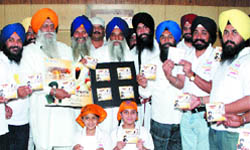 An album "Sri Gur Ramdaas" containing six "shabads" from "Bhattan De Swayyea" rendered by Bhai Gurdev Singh, Hazoori ragi of the Golden Temple, and produced by Frankfinn Entertainment Company Ltd was released by Head Granthi Giani Gurbachan Singh here recently.

Golden Temple head granthi releases an album, "Sri Guru Ramdaas," in Amritsar. Photo: Vishal Kumar
16 varsity technocrats get placement
Amritsar, April 15
Tech Mahindra, a leading software development company from Noida, has selected 16 computer and electronics engineers of Guru Nanak Dev University passing out in 2009 for placement.
Indo-Pak rail officials hold meeting
Amritsar, April 15
An 11-member delegation of railway officials of Pakistan arrived in India through the Attari/Wagah joint check post to hold a meeting at the BSF conference room today.