Atomising computing with new chips
Roopinder Singh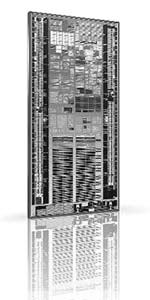 AN atom is the smallest component of an element having the chemical properties of the element. However, it is also the most powerful, capable of releasing immense energy, both peaceful and, as the world has found to its cost, destructive. Intel had something like that in its mind when it recently showcased its smallest chip, the tiny Atom.
Pat Gelsinger, Intel's Senior Vice-President, also used the Intel Developer Forum in Shanghai, where 5,000 software and hardware designers had gathered recently, to focus on the Tukwila chip that has two billion transistors in it! The stress was on scalability and how Intel was able to use two totally different processors at the same time.
It is an impressive feat. The Atom family comprises the world's smallest computer processors. An Atom is the size of a baby's fingernail.
The size here is inversely proportional to power. The chip has 47 million transistors, which will make it a powerful heart of Mobile Internet Devices (MIDs), and it is a miser when it comes to power consumption — 600 milliwatts.
The Intel Atom processor is based on an entirely new micro architecture designed specifically for small devices and low power, while maintaining the Intel Core™ 2 Duo instruction set compatibility consumers are accustomed to when using a standard PC and the Internet.
The Atom's design also includes support for multiple threads for better performance and increased system responsiveness. All of this on a chip that measures less than 25 mm˛, making it Intel's smallest and lowest power processor yet.
In contrast with the Atom, the huge Tukwila has four cores and will, according to Intel, do the work of virtually four computers. Tukwila breaks new ground for the highest number of transistors ever put on a chip - two billion. When you have so many transistors, they consume power, in this case 130 to 170 watts.
Billions of transistors allow super computers to perform a million times billion operations a second, or peta flops. Such super computers are used to simulate real-life situations and help scientists find ways to understand and learn from them.
As Gelsinger recalled: "When Intel launched the world's first microchip in 1971, it had just 2300 transistors. I was part of the team that created the Intel 386 processor in 1985: it had 2, 75,000 transistors... and now in my hand, I can hold this two billion-transistor monster."
Till now, bigger is better, was a philosophy adhered to by most computer manufacturers and users. Now, there is a paradigm shift in this, as smaller but capable devices are coming to the centre stage.
Already, Sharp has announced the launch of an Atom-based device, which will run on Microsoft's Vista operating system. The device, according to a press release, uses a 1.33GHz Z520 Intel Atom processor and runs Windows Vista Home Premium. It is a small computer that can also be used as a phone and features a 5-inch sliding LCD (1024x600/262K colours) screen with an LED backlight, a 1.8-inch 40GB hard disk drive. The keyboard is QWERTY one and it has a built-in camera, Wi-Fi, Bluetooth, a mirco SD card slot, and a USB 2.0 slot.
The future of computers will have a major role for such around US$ 1,000 MID devices, which are a combination of communication and computing that can fit in your pocket. Small is beautiful, isn't it!