Martyr Attariwala's tomb will be a tourist site
Amritsar, April 18
To pay tribute to martyr Sham Singh Attariwala, the Punjab tourism department is busy these days in developing its "samadh" into a tourist spot.
On a high: It's raining jobs for varsity students
Amritsar, April 18
IT company INFOGAIN has selected 14 students of Guru Nanak Dev University through campus placements. The selected students have been offered jobs a year before completion of their degree and would get a salary package of Rs 2.50 lakh per annum at the time of joining in July 2009.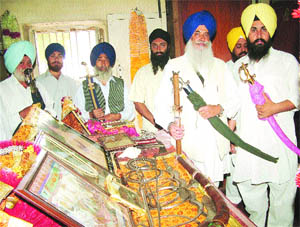 Nihang Chhavni: A treasure storehouse
Amritsar, April 18
The rare weapons of Sikh Guru Gobind Singh and other Sikh warriors preserved at "Nihang Chhavni" near gurdwara Shaheedan is a feast to the eyes. The work of conserving these weapons was initiated by saint turned freedom fighter Maharaj Singh and is presently being looked after by his great grandson Gurpartap Singh Tikka.

The place has rare weapons of Guru Gobind Singh and other Sikh warriors.

2 held with stolen vehicles; country-made pistol seized
Amritsar, April 18
Two persons, identified as Bikramjit Singh, resident of Wadala Bhoma village and Nishan Singh of Gurdaspur, were arrested by the district police on charges of stealing vehicles and selling them after preparing fake documents.
'Young kids losing habit of reading books'
Amritsar, April 18
Famous children's writer and winner of state and national award for his research work on teaching, Jasbir Singh Jas, has joined as district coordinator of reading cell project.
INTACH walk raises heritage awareness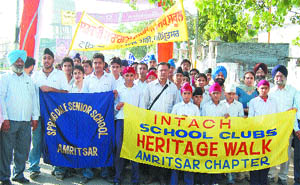 Amritsar, April 18
A heritage walk was organised by the local chapter of the Indian National Trust for Art and Cultural Heritage (INTACH) to mark World Heritage Day, which commenced from the historic Jallianwala Bagh and passed through various markets and historically important buildings.


Kids take part in 'Heritage Walk'organised by INTACH in Amritsar on Friday.

Varsity Verve
Dr Bedi new HoD of pharmaceutical sciences dept
Amritsar, April 18
Dr Preet Mohinder Singh Bedi, has been appointed as the head of department of pharmaceutical sciences, Guru Nanak Dev University by vice-chancellor Dr Jai Rup Singh.
Baba Jallan award for poet Ghuman
Amritsar, April 18
Dr Bikram Singh Ghuman, famous Punjabi writer and former dean of Guru Nanak Dev University, was given the Baba Jallan award during the three-day Baisakhi festival fair at border village of Naurshera Dhalan.