THIS ABOVE ALL
Learning from other faiths
Khushwant Singh

THE last time I was in Bangalore (more than 10 years ago), I decided to visit all the historic places of worship I had not seen before. On these visits my companion was Nirmala Mathan, who I had befriended during my long stay in Bombay. She was, and is, a lovable person with a rich voice. On my request she recited my translations of Sikh hymns in a CD made by Polydor released on the 300th birth anniversary of Guru Gobind Singh, entitled Sikhism Through the Songs of the Gurus. It was well received by the community. I was much beholden to Nirmala. After we had done our round, she said: "Now that you have visited all the temples and mosques, you might as well visit St Mark's Cathedral. It is the oldest church in Bangalore.''
So the next Sunday morning I accompanied the Mathans to the morning service. They are devout Christians and the entire family is into singing. The experience still haunts me. St Mark's was built soon after the British defeated Tipu Sultan at Seringapatnam in 1799.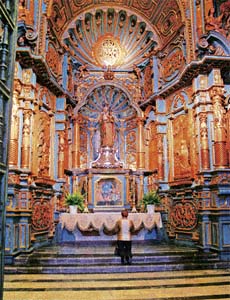 Believers find peace in a church
There had been a small chapel deep in the woods infested by monkeys—they called it the metropolis of monkeys. When Bangalore became the regimental headquarters and the cantonment was built, it was decided to build a large church for the troops.
So in 1808 St Mark's Cathedral came up on what is now Mahatma Gandhi Road near Cubbon Park. Next month they will celebrate the 200th anniversary of the cathedral with special thanks-giving services.
St Mark's looks like a smaller version of St Paul's Cathedral in London. While St Paul's is now an island in London's heavy traffic, St Mark's is on an island of greenery with cassias, jacarandas and frangipani. Its altar and pews are made of ancient teak and rosewood.
I sat dutifully through the service. Nirmala kept turning the pages of my hymn book to help me follow the words. I did not even try to sing because my voice is like that of a horse. After the service was over, we stood in the lawns being served tea.
The vicar, Reverend Vincent Rajkumar, joined us. He was anxious to know who I was and what had brought a Sikh to a church service. I replied as best as I could: "I go to every place of worship so that I can learn something about the worshippers' faiths".
Looking for partners
British newspapers and magazines do not carry matrimonial ads. They have tabloids appearing on Sundays where eligible males and females offer themselves as life-partners to people giving details— their ages, heights, hobbies etc.
Among England's magazines the fortnightly Private Eye is unique in having a column oddly entitled 'Eye to Eye,' which caters to those looking for company of the opposite sex. To describe it as matrimonial would be a misnomer. Liaisons would be a more apt title. Some items, appearing regularly, are hilarious. For example, 'Meet oriental ladies in London'; or 'Air hostesses who are off duty and want to have a good time'.
At times real intentions are spelt out with refreshing candour—'Wanted a sperm donor.' In the last issue of the journal, which a kindly English gentleman airmails to me, I came across two amusing items. One reads: 'Seduce a sophisticated woman, me; north-east Yorkshire; can relocate, you—50s-60s, tall and passionate.'
The second item is equally seductive. It reads: 'Venus, lascivious widow, ready to enjoy meaningful, exciting, pampering life again. Attractive blonde, late 50s; military and caring; professional background; sincere, kind, compassionate gentleman, 60 plus, to care and share whatever interests. Letter, photo ensures immediate response. Will reciprocate. 10 miles from London".
Communist capers
Indian Communists are on the grill;
Though vanquished, they are arguing still;
They have sunk the deepest in hypocrisy;
As their noora kushti with the Congress;
Is a mockery of democracy;
They do not want FDI in India at all;
But they go abroad to beg for it for West Bengal;
Anti-poor, anti-people, the Congress they call;
But will not pull the rug and allow their government to fall;
The Congress, too, has gauged their might;
They may bark but they will not bite;
All this drama is because of election woes;
How can they be friends at the Centre and in the states be foes?
Now on the Indo-US nuclear pact:
They can walk neither Right nor Left;
Then the BJP sent them a proposition;
Why not fight the UPA as united Opposition;
"When the bridge comes we shall cross it;"
But what if the bridge collapses when they are on it?
And now the marriage with UPA will continue;
But without love, of course;
At a time suitable to us we shall file a case for a divorce;
But be sure that we shall now be sleeping;
In different rooms of the same house".
(Contributed by M.G. Kapahy, Delhi)
New guarantee
Client: "Do you give a guarantee with this hair-restorer?"
Barber: "Guarantee, Sir? We give a comb free with every bottle".
(Courtesy: Shivtar Singh Dalla, Ludhiana)