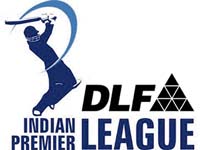 It is show time
The cash-rich Indian Premier League is set to mark the beginning of a new era in cricket. Money in abundance has changed the way the game is looked at off the field and that will, hopefully, boost the quality on the field as well, writes Gopal Sharma
THE best of world cricketers, corporate honchos, a host of Bollywood stars and the playing facilities as good as the best. It sure looks like the Indian Premier League has found its recipe for success. Launched with a lot of fanfare last year, the League, which unfolded on Friday with the matches spread over eight venues across the country continuing up to June 1, promises to be a heady cocktail high on glamour quotient.
Double treat
M.S. Unnikrishnan
IT was like yesterday once more. Whatever off-court differences they may have had, Leander Paes and Mahesh Bhupathi closed ranks when it came to serving the cause of the country. They reinvented the on-court chemistry they were famous for to fashion a memorable doubles victory against Japan in the Davis Cup Asia Oceania Group I second round in Delhi to sew it up for India.
IN THE NEWS
Cut out for glory

Jeev Milkha Singh's fighting capabilities came to the fore when he came back from a disastrous start of six-over after 10 holes to finish with a three-over 75 and registered his best Major result in 25th place at the Augusta Masters. Jeev, who had a quadruple on the final day last year, had a nightmare return with a double bogey on the first this time.

Vaibhav Sharma
AFTER being humiliated at Ahemadabad, the Indian team was looking for inspiration and resolve from within. But in adversity it is easier to scrutinise, than to deliver. The absence of captain Anil Kumble and the prodigious Tendulkar made matters worse. But as the saying goes, "What's adversity to one man, is opportunity to another".