Idea of Islam
Himmat Singh Gill
Moderate or Militant: Images of India's Muslims
by Mushirul Hasan. Oxford University Press.
Pages 252. Rs 495.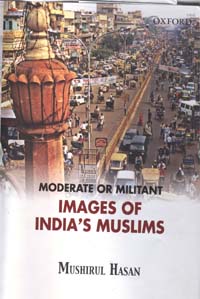 EVER since Independence, India's Muslims or the Muslim Indians, as some prefer to call them, have been the subject matter of many studies and government-appointed committees dealing with minority rights. Mushirul Hasan's book goes well beyond the oft-debated question of the standing of India's Muslims who decided to stay on in spite of the two-nation theory, and examines far-reaching issues of plurism, secularism, jihad, Partition, discrimination, education and much more concerning India's largest minority. As regards the future, Hasan feels that "India will remain quintessentially secular and pluralistic" as long as there is inter-community intermingling, and quotes Asghar Ali Engineer, "Given little more wisdom and pragmatic approach, Muslims can succeed in shaping their future in democratic India even if secularism is undulating". Could it also mean for them to reconcile with the mainstream, or perish?
Hasan is concerned that too little is known about Islam and its literature or culture in the globalised world of today, and leans towards the Indian brand of secularism based on free thought and democratic traditions where every religion is to be protected and where the state and religion are to be separate functionaries.
Understandably, he is no fan of Nirad Chaudhuri or V. S. Naipaul who have written about Islam and its followers in their own peculiar vein, situated well away from the centre of action in the sub-continent and the Arab world in far-off lands.
Nirad in his lifetime only seemed to see the ruins of the Hindu temples that the Muslim invaders had destroyed, and "the facts of history mattered little, if at all, to Nirad Chaudhuri", writes Hasan. Naipaul who considers himself to be an authority on Islam had even defended the destruction of the Babri Masjid and had called it "an act of historical balancing" in an interview to the Outlook magazine on October, 30, 2001, as Hasan very tellingly points out in the book. But then there were saner voices also like that of Dr Zakir Husain whose counsel Mahatama Gandhi took in 1938 after the Bombay Hindu-Muslim riots, and who in 1946 brought the Congress and the League together on the same platform in his peace efforts to keep India one and united.
Gandhi's role in helping control the rampaging mobs around Jamia Millia Islamia on September 8, 1947, "Gandhi came to the campus to inspire confidence: General Cariappa, the Commander-in-Chief, the Prime Minister and the Health Minister followed his visit" (the Madras Regiment, when moved to the campus, set matters right firmly), does beg the question as to why our later generation political leaders could not follow the same example in taking the Army's timely help when the rioting against the Muslims in Mumbai in recent times and against the Sikhs in 1984 took place.
Writing about Jinnah and the frequent attacks on him about his being a nationalist after the League's March 1940 resolution, Hasan reminds, "But his attempts not to wreck secular democracy were frustrated by the inability of the Congress to overcome the influence of the Hindu Mahasabha or a sizable section of its own communalised membership."
The fiasco of Partition is dealt in detail and the book quotes Pakistani writer Hasan Manzar's lament, "The 'Partition Plan' of June 2, 1947, was devised with haste and with utmost cynicism." One day, I am sure a fearless Indian writer will apportion the called for blame on the British and the Indian leaders of undivided India who acted in a haste resulting in millions dying and being uprooted. After 1947, when the Indian Muslim continues to be marginalised in public services and there is little improvement in his education and standard of living, one wonders whether the lines of Urdu poet Faiz that are quoted will ever ring true, "Gul huii jaati hai afsurda sulagti huii shaam/Dhul ke niklegi abhi chashma-e mehtaab se raat" (The fire of the sad smouldering evening is being extinguished/ In a moment the night will disappear washed by the stream of moonlight).
Whether the image of the Indian Muslim is that of a moderate or that of a militant is amply answered by the violent backlash that the community invites from time to time, but suffice it to say that every religious community has its deeply-rooted secular and liberal content. Hasan, with due diligence and painstaking research, has written a powerful account of a powerful community that can no longer be ignored by any of the country's political leadership. Their place in the 21st century, fears and predicaments and endeavour for a place in India's post-colonial society have all been examined at length. Suffice it to say that India's Muslims are neither moderates nor radicals but plain Indians who are as secular or non-secular as anyone of us. A very readable account, where Hasan has thrown up fresh ideas and been more of an opinion maker than a mere academician.