Travails and tribulations
Harbir K. Singh
The Mahanadi Dreams
by Subhakanta Behera.
Indialog Publications, New Delhi.
Pages 214. Rs 225.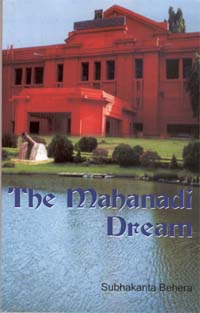 this is the story of Arun who leaves his cushy job to live with his parents in Cuttak in Orissa to do something for his people. After spending almost 10 years in different cities in India, he took such a bold decision because he was emotionally attached to the city of his birth.
The 1000-year-old city of Cuttak is squeezed between two rivers, the Mahanadi on the north-east and its tributary Kathajodi on the south-east. Its inhabitants are history conscious and are proud of the city and its heritage. They like to retain the relics of their city at any cost and are very possessive about their past, even though it is in a dilapidated state now.
The story moves with Arunís memories of his college days. He visits Ravenshaw College and remembers how as a newcomer he was thrilled on his first day at the prestigious college, the days he spent at the College Square and Nayak tea stall, where their whole group used to gather for a cup of tea and release their pent-up frustrations and exchange notes. Now, sitting at a stall and sipping tea makes him nostalgic for those moments. Later, he meets his old friends and comes to know about their life stories that open up whole new vistas for him.
Each story speaks about new problems being faced by people due to political and administrative apathy. Bitterness and helplessness of characters and the incidents relating to poverty, opportunism, rapes, molestations are very sensitively brought out by the writer. Arunís visit to Kalahandi is an eye-opener. Though studded with wild forests, hills and deep valleys and natural resources, Kalahandi is still mired in poverty and hunger. Starvation deaths are very common here. Most of the people survive on mahu, sal, kendu leaves or mango kernels that they collect from nearby forests. Due to severe malnutrition, people suffer from many fatal diseases. Young girls are ready to sell their body for a paltry sum of money to kill their families and their own hunger pangs. This is not Arunís Orissa that he had dreamed of.
Hooliganism in the city and the state is rampant due to the nexus between local politicians and goons. With the blessing of a local MLA, the dreaded leader Panu Biswal and his goons have held the whole area to ransom by engaging themselves in anti-social activities. No one dares to raise his voice. They forcibly take possession of the land owned by Arunís father. When Arun asks them to vacate the land, the henchmen brutally beat him up.
Censoring of the press is very common. No newspaper\magazine is allowed to write against the government. When Arun publishes an article on Naxalite movement in his magazine Aashaloka, he gets a notice to shut down his press.
Social orthodoxy still persists in society. Even educated families refuse to marry their children into lower castes. Arun and Rekhaís love story too becomes the victim of casteism.
While charting Arunís journey in finding new meaning in his life and doing something for his city and the state, each sub-plot unfolds a new story. The writer has tactfully woven the plot around the historical sites of the city like Ravenshaw College, College Square, Kathajodi embankment, etc. The narrative is so beautiful that you actually flow with it. On the whole, the book makes for a very interesting, informative, educative and learning experience.