Food talk
Kulcha pizza
Affordable and filling, kulcha can easily replace a pizza, writes Pushpesh Pant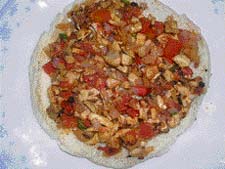 Who does not love a pizza? It is exotic and yet familiar. A piece of Italian 'pie', spicy and colourful, pleasantly hot-tempered just like the Latins who have gifted it to the world. It is ideal finger food, reminding us that even some 'goras' eat like us — at least sometimes. Variety they say is spice of life and what can delight us with as various manifestations as the pizza?
Pizzas come in different sizes and shapes, from wood fired ovens or from pans, can have a thick or thin crust, with mouth-watering toppings veg or non-veg with, oh so seductively delicious, mozzarella cheese. And, we have just scratched the surface. Count also in the list of delights tomato sauce spread, seasoning, chilli flakes et al.
Moreover, it can be shared easily — not something you can do with a hot dog, burger or for that matter a samosa or tikki. It is not surprising that pizza with strong affinity to Indian palate has carved out a special place for itself. The big foreign chains — Pizza Hut and Dominoes — have for long eyed not only the vast potential market in the metros and mini-metros but also in the small towns. They have gladly made adjustments to suit desi tastes.
Paneer methi wala and murg masala tikka has pushed aside sausages and salamis. In pushcarts on the roadside and college canteens the toppings taste little different from Shimla mirch pyaaz-tamaar ki tikhi subze drenched in good old ketchup. Major bakeries and neighbourhood grocery stores have started marketing pre-baked pizza bases simplifying the lives of the much-hassled housewife. When the kids back from school are clamouring for a snack refusing to eat dal chawal or roti subzi, she can now rustle up nourishing 'non-junk' homemade pizza with a generous helping of grated processed cheese. We have always felt that this is not enough.
To claim genuine native resident status the base has to change. Not everyone has an oven or toaster-griller to replicate the pizza eaten out. Also, processed cheese can hardly qualify as a nutritious or light. This is what has prompted us to experiment with the beloved kulcha. Lest we forget, kulche chole have sustained countless millions in this country for generations. They are the affordable, filling and somewhat balanced lunch for daily wage earners in the city and office-goers. Like pizza bases, kulche too come oven fresh and one doesn't have to worry about preparing the bread at time when unexpected guests turn up. The problem has been with the oily, poisonous-looking choley. Let us not beat around the bush. What we are offering our readers is a light, healthy desi pizza look-alike sans firang base, topping and seasoning or sauces. We hope you approve.
chef's corner
Ingredients
Button mushrooms (washed well and diced) 50 gm
Tomato (large sized, chopped) one
Capsicum (small-sized, chopped) one
Onion (medium, finely chopped) one
Dhania powder 1/2 tsp
Kashmiri lal mirch 1/2 tsp
Zeera powder 1/2 tsp
Chat masala 1/2 tsp
Salt to taste
Oil 1 tbsp
Kulche (bought from the baker/grocer) two
Method
Heat oil in a non-stick frying pan. Add tomatoes. When moisture almost evaporates add onions along with powdered spice and salt and stir-fry for a minute then put in the mushrooms and continue to cook on high flame stirring briskly for another minute. Sprinkle the capsicum. Remove from stove and spread the topping on the kulcha evenly. Slice like regular pizza and serve with preferred chutney or pickle.