GARDEN LIFE
Turn to tulips
Kiran Narain
With Asia's largest tulip garden in Srinagar in full bloom and the Jammu and Kashmir Tourism Department promoting it as a tourist attraction, there has been growing curiosity about tulips.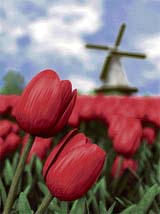 The colourful tulip fields with windmills in Holland

Tulip (family liliaceae) is a spring flowering bulbous plant with an interesting history. While the plant originated in Asia Minor, Persia, parts of Afghanistan, Kashmir and Turkistan, it was Turkey that introduced tulips to the rest of the world. More than four centuries ago, tulip mania engulfed western Europe. The trading of tulip bulbs like corporate stocks came to an end only after intervention by the government.
Tulip is believed to have derived its name from the Turkish word 'thailypen' meaning a turban. However, when one talks of tulips, one does not think of Turkey but of colourful tulip fields with windmills in Holland. The Dutch began growing tulip bulbs as a solid business from 1634 A.D
Tulips have been hybridised intensively. There are more than 4,000 varieties of tulips, grouped into 15 odd classes, offered in catalogues of Dutch bulb growers. Hectares of tulips in various colours and varieties are grown commercially and nearly two billion bulbs a year are produced. The colourful tulip fields attract nearly a million tourists each year. The Dutch economy depends on tulips both for bulb and cut flower trade. The Dutch Bulb Growers Association officially describes different varieties grouped as double darwin, triumph tulips, mendel tulips, lily flowered, cottage, Rembrandt and parrot etc which are further classified by their time of flowering such as early flowering, mid-season flowering and late flowering. Descriptive catalogues of tulips sent out by nurseries advertise cups ranging from one inch deep to some of the hybrids which are four inches deep. Growing from five to 30 inches in some of the varieties, tulips are the mainstay of spring gardens in colder climates producing flowers in a wide range of colours from March to May.
The bulbs contain within them sufficient plant food to produce flowers for one season but if one wants them to flower again, one has to provide them with moderately rich, light and well drained soil in conducive environment where temperatures do not exceed 35 degrees. In very cold weather, deep planting of bulbs may protect them from frost, but normally they are planted about four inches deep and six inches apart.
Kashmir was home to one of the most spectacular red tulips half a century ago. Immortalised by poets Gule laala, tulipa lanata grow near saffron fields of Pampore. It blossomed on the sodden roof tops. These, along with other three indigenous tulip varieties, was exported in the 1940s to 1950s to Holland by late P.N. Kohli, earning him the nickname Tulip Man from late M.S. Randhawa. Later when the sodden rooftops were replaced by corrugated iron sheet roofing, the tulips fell an easy prey to mice and gradually vanished.