ART & LITERATU
RE

'ART & SOUL
ENTERTAINMENT

TELEVISION

GARDEN LIFE

NATURE

FOOD TALK

CONSUMER RIGHTS

FASHION

HOLLYWOOD HUES

BRIDGE

ULTA-PULTA
EARLIER FEATURE

TRAVEL

RELATIONSHIPS

DREAM THEME

TIME OFF

Pay and prejudice
Commission's omissions
The recommendations of the Sixth Pay Commission have come under fire, for the raw deal meted out to the armed forces, paramilitary forces and the IPS. The Tribune correspondents check out why our men in uniform are feeling cheated of a deserving pay packet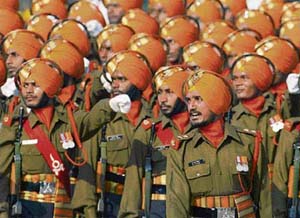 The Sixth Pay Commission report held no cheer for the majority of oficers of the armed forces. The resentment is most visible in the middle-rung officers between the ranks of Major and Brigadier in the Army and their equivalent in the Air Force and the Navy. It is the middle rung, which forms the backbone of the armed forces. The three service chiefs were left with no option but to approach Defence Minister A.K. Antony for an upward revision in the pay panel's recommendations. The government has set up an Empowered Committee of Secretaries for reviewing the report.
The murals of Dhianpur
The 19th-century murals at Sheesh Mahal and Gaddiwala Dalan depict secular themes, says Kanwarjit Singh Kang
Among the several Vaishnava establishments in Punjab, the most important are those at Pindori Mahantan, Damthal and Dhianpur, all in Gurdaspur district. At Dhianpur, near Batala, is a well-known shrine of Vaishnava bairagis of the Ramanandi sect known by the name of Dera Baba Lalji.
Insects ride the wind
The enormous number of migratory moths flying high above our heads throughout the night aren't at the mercy of the winds, but use them to reach their destinations, according to a study.
Khandaani paandaans of Hyderabad
The paandaan is a small box with fitted spoons for storing the essential ingredients. To this day a Hyderabadi begum's saliqa is judged with the way she keeps her paandaan, writes Lotika Ramchandani
Think of the professional paanwalla in our major metros, his gesticulating hands leaping, a conductor's baton over gleaming stainless steel dabbas to orchestrate that perfect paan. For customers on the run, he will even offer paan masala in polypack sachets.
Heralding spring, the Goan way
The Shigmo festival, marked by a colourful pageant taken through major cities of Goa, exhibits the spirit of bonhomie the land of beaches is acclaimed for, say Rajbir Deswal & Chander Koumdi
During our 10-day sojourn in Goa, we not only relished its scenic beaches but also its famous kaju feni, buildings, churches, and the laidback but friendly attitude of the locals. Driving from the Miramar beach to the Old Secretariat in Panaji, our vehicle suddenly came to a halt near the Kala Academy Bhawan. In front of us was a huge, three-dimensional, multi-coloured figure of a demon, with stretched arms and a blood-soaked tongue hanging out.
Few takers for Incredible India
India received only five million tourists last year and accounts for just 0.56 per cent of world tourism, writes V. N. Chhibber
In spite of a Ministry of Tourism at the Centre and a high-pitch Incredible India campaign to project the country as an attractive destination, the tourist influx has been rather very modest. For a continent-sized country as ours which has been heavily marketed for its diversity
New kids on the block
From being fringe players in Bollywood, more than a dozen young directors are making their debut this summer, writes Derek Bose
As the mercury climbs, Bollywood is having a new reason to celebrate. More than a dozen enterprising directors, fired by the spirit of youth and drama, are making their debut this summer with films that are as refreshing in form as can be varied in content. From glitzy crime capers and action thrillers to spunky romances, insane comedies, robust musicals and syrupy melodramas, even a stylish ghost story thrown in… these youngsters are pushing the boundaries of Hindi cinema in ways never seen before.
Making comedy is serious business
– Shyam Benegal
Sabi Hussain
Five-time National Award winner, director of critically acclaimed films like Ankur, Nishant, Manthan and Bhumika, Shyam Benegal, feels he has done a lot of serious cinema during the past few years and he needs to do something new.


Jest for life
Mirasis are not only great actors and entertainers, endowed with the rustic wit known for its dramatic punch, they also have a social role in rural Punjab, says C.D. Verma
Recently, I was attending a social function at Rewari in Haryana. The town is steeped in history and culture. Suddenly there arrived a troupe of street singers — tall, lanky, having rustic looks, dressed in blue kurtas and white dhotis and playing on dhols and daflis. They sang encomiums in praise of my friend, a rich descendant of a family of Ahirwal, and addressed him as the pride of the place.