Few takers for Incredible India
India received only five million tourists last year and accounts for just 0.56 per cent of world tourism, writes V. N. Chhibber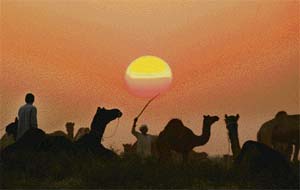 In spite of a Ministry of Tourism at the Centre and a high-pitch Incredible India campaign to project the country as an attractive destination, the tourist influx has been rather very modest. For a continent-sized country as ours which has been heavily marketed for its diversity — where each state is unique in its own way; where spiritualism breathes in and out; where forts and palaces still echo the bugle of victory; where adventure sports abound; where postcard tourist spots are in plenty; where there is facility of medical tourism; where there is no dearth of eateries; where there is so much to see even on a shoe-string budget — there were only five million tourist arrivals last year.
This record seems dismal when the comparisons are made with the city-state of Singapore that attracted 10.3 million tourists during the same period. Viewed in retrospect, a billion-strong nation received only five million tourists, while a five million-strong country got more than double that number. India accounts for just 0.56 per cent of world tourism.
Why the dismal record? Surely, the recent reports of crime in hotspots like Goa do take the shine off the campaigns like 'Incredible India'. One is tempted to conclude that foreign visitors are shying away owing to the poor law and order arrangements in some states of India. But are they making a beeline for states where there is perfect law and order? Not so. The absolute number is abysmally low, whichever way one looks at it.
No delineation will be complete without taking into account the serious infrastructure shortcomings that prevent tourist inflow from taking off. To start with, consider the number of hotel rooms which remain way below the requirement. A few years earlier, 1.5 lakh additional hotel rooms were needed. Such figures are seriously flawed and outdated as local and domestic tourism is also booming now.
Slum tourism has the potential of long-term benefits for those who live in shanty towns. A part of the money raised from the tours finds its way back into the slums. As for the privacy of the residents of a slum, tour operators usually follow a no-camera policy.
Indians have always been touchy about poverty. Way back in the 1950s, when Satyajit Ray made the classic Pather Panchali, there were complaints by some that he was cashing in on India's poverty. The protests against slum tourism take a similar tone. There is no reason why India's poverty and slums should be kept hidden. The more they are in the people's gaze, the greater the chances of tackling the problem head-on.
The requirement is not just for five-star hotel suites and rooms but also for budget accommodation. The bed-and-breakfast scheme has not made a dent in this context. Hassles, paperwork, formalities abound. Then view the sorry state of our airports, delayed flight schedules and poor road connectivity. If these are far from good, how can more and more foreign and inland visitors be expected to visit our desert sands, picturesque places with lush green vegetation, golden beaches, high misty mountains and verdant vales. Add to this the tremendous exponential development taking place, changing familiar landscapes overnight.