New kids on the block
From being fringe players in Bollywood, more than a dozen young directors are making their debut this summer, writes Derek Bose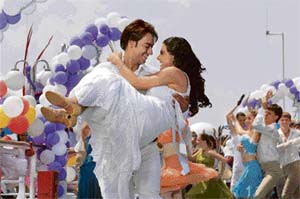 Ajay Devgan debuts as director with U, Me Aur Hum

As the mercury climbs, Bollywood is having a new reason to celebrate. More than a dozen enterprising directors, fired by the spirit of youth and drama, are making their debut this summer with films that are as refreshing in form as can be varied in content. From glitzy crime capers and action thrillers to spunky romances, insane comedies, robust musicals and syrupy melodramas, even a stylish ghost story thrown in… these youngsters are pushing the boundaries of Hindi cinema in ways never seen before.
Leading the brat pack are names like Vijay Krishna Acharya (Tashan), Jaideep Sen (Krazzy 4), Rajkumar Gupta (Aamir), Kunal Shivdasani (Hijack), Abbas Tyrewala (Jaane Tu Ya Jaane Na), Vivek Sharma (Bhootnath). Barring an actor, Ajay Devgan (who has made his directorial debut with U Me Aur Hum) all the new filmmakers have hitherto been fringe players in Bollywood, either moonlighting as scriptwriters or cutting their directorial teeth under veterans like Mahesh Bhatt and Rakesh Roshan.
Significantly, none of the big daddies has anything new on offer this season. It is not as though they have run out of steam; but they would rather wait and watch. Meanwhile, many of them have turned producers and are bankrolling the films of their former assistants. Some are actually sitting on the editing consoles and helping the juniors make the 'final cut'. It is this practice of encouraging youngsters with potential — a tradition that goes back to the days of Bimal Roy and Raj Kapoor — that makes Bollywood such a special place. Unlike the art house filmmakers elsewhere, mainstream Hindi directors are known to nurture fresh talent and give deserving apprentices a break.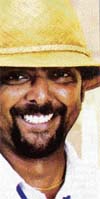 Jaideep Sen
Last year, as many as 26 directors got their break. Of them, only four could make a mark — Sagar Bellary (Bheja Fry), R Balakrishnan (Cheeni Kum), Sajid Khan (Heyy Babyy) and Aamir Khan (Taare Zameen Par). All the rest, including Feroze Khan (Gandhi, My Father), Navdeep Singh (Manorama Six Feet Under), Anil Mehta (Aaja Nachle), Manoj Tyagi (Mumbai Salsa) and Sanjay Khanduri (Ek Chaalis Ki Local) were rejected by audiences. Even among those who survived the box-office, none could match the success of past masters like Mani Ratnam (Guru), Farah Khan (Om Shanti Om) and Shimit Amin (Chak De! India). So it is not as though the greenhorns can claim a better understanding of the marketing dynamics or are guaranteeing success in some manner. Then why is Bollywood being so generous towards them?
The most obvious and simple answer to this is that the veterans have taken a break for the moment. They may well be applauding the new generation of filmmakers augmenting Bollywood's talent pool, but the fact is they have all developed cold feet. Since Veer-Zaara in 2004, Yash Chopra is yet to pick up the megaphone. The other big timer, Karan Johar is still trying to figure out why Kabhi Alvida Na Kehna did not work as well as his previous two films. Likewise, Subhash Ghai, barring an unlikely Black and White in March, has not come up with a film after Kisna bombed in 2005. Even Rakesh Roshan has applied the brakes after Krrish in 2006 and is now producing other people's films, like Krazzy 4 and Kites. Ramgopal Varma, Sanjay Leela Bhansali, Vidhu Vinod Chopra and others of their generation are similarly cooling their heels in the shadows, for obvious reasons. Incidentally, all of them have announced some fancy titles for the future, but those are in the nature of a face saving device.
There are however, deeper reasons for the resurgence of youth power in Hindi cinema. With corporatisation setting in, the work culture in Bollywood has changed to such an extent that old timers are finding it hard to adjust. They are just not accustomed to deliver by bound scripts, spreadsheets and flow charts, deal with cheque payments, draw up insurance policies for the crew and equipment and have auditors breathing down their necks at all times. While the new breed of filmmakers have taken to these measures of financial discipline like fish take to water, Chopra and Ghai (indeed, Roshan too) belong to a generation that functioned best in conditions of anarchy. Their most successful films came out at a time when stars threw fits on the sets, there were no scripts to go by, nobody was accountable and money flowed in from dubious sources like smugglers, bucket repairers, underworld goons and assorted horse breeders.
Corporate bodies like Reliance, Percept Pictures, UTV and Moser Baer have changed all that. Their financial muscle has triggered a phenomenal boom in production with national output breaching the 1,000-film mark in 2007 and Bollywood itself recording an unprecedented 17 per cent growth over the previous year. Today, money is not an issue for any of the market players so long as they are able to grab the right talent and spread their risks across a variety of films. The biggest beneficiaries of their largesse have been the top-ranking stars like Hrithik Roshan, Akshay Kumar and Kareena Kapoor. Now it is the turn of the directors.
Already directors, who are neither young nor old, but with a fairly decent track record have been booked on two to three film contracts by leading corporates. In this category are the likes of Madhur Bhandarkar (Chandni Bar), Rajkumar Hirani (Munnabhai) and Nikhil Advani (Kal Ho Na Ho). Others like Pradeep Sarkar (Parineeta) and Anurag Basu (Gangster) who have been just as successful are supposed to be playing hard to get. The general impression in the corporate circles is that any filmmaker with some experience and a hit or two under his belt has overpriced himself to a point where he is competing with the stars for fees in crores. In this scenario, signing a greenhorn who has gone through the grind and now has the proverbial fire in the belly makes sound business sense.
It actually works for the benefit of both. Additionally, what has tilted the scales in favour of the debutant directors is their background. Most of them are well-educated, extremely articulate, in tune with the latest trends in world cinema and quite comfortable with the new climate of professionalism in Bollywood. They do not carry any baggage from the past. Most importantly, they are completely one with their target audience — the young, restless, and upwardly mobile crowds that frequent multiplexes. They speak their language. They think the same. Their sensibilities are the same… The director-audience connect is complete.
Debutant directors
Among the directors making their debut this summer, the front-runners are:
Abbas Tyrewala: The writer of recent hits like Maqbool, Munnabhai MBBS and Main Hoon Na cuts his directorial teeth with Jaane Tu Ya Jaane Na, a romantic comedy set in a college campus. The film introduces Aamir Khan's nephew, Imran Khan opposite southern starlet Genelia D'Souza.
Ajay Devgan: After facing the camera for over 15 years and 75 movies, Devgan directs a love story, drawing heavily on Hollywood hits, Iris and The Notebook. The film U Me And Hum has Kajol sharing the lead with him while Sarika, Rituparna Sengupta and others lend support.
Jaideep Sen: Rakesh Roshan's understudy comes into his own with Krazzy 4, a rib-tickler featuring four nutcases and a lady doctor. More than the performance of the lead players, the film is making news for the item numbers by Shahrukh Khan, Hrithik Roshan and Rakhi Sawant.
Rajkumar Gupta: The former associate of Anurag Kashyap makes his splash by exposing Mumbai's dark underbelly in Aamir. The crime thriller has been shot mainly in the slums of Dharavi and by-lanes of Bhendi Bazaar. TV's popular chocolate hero, Rajiv Khandelwal is the protagonist.
Vijay Acharya: Having penned the scripts and dialogues of Dhoom, Dhoom II and Guru, Acharya makes his directorial debut with Tashan, an action-packed, romantic thriller shot on location at Greece. Akshay Kumar leads a star-studded cast that has Saif Ali Khan, Kareena Kapoor and Anil Kapoor among others.

Vivek Sharma is all set to prove himself with Bhootnath
Vivek Sharma: Mahesh Bhatt's protégé hits big time with Bhoothnath, a spooky tale about a little boy's relationship with his deceased grandfather. Amitabh Bachchan plays the friendly ghost while Juhi Chawla is the boy's widowed mother and Shahrukh Khan, her husband. — D.B.