Making comedy is serious business
– Shyam Benegal
Sabi Hussain
Five-time National Award winner, director of critically acclaimed films like Ankur, Nishant, Manthan and Bhumika, Shyam Benegal, feels he has done a lot of serious cinema during the past few years and he needs to do something new.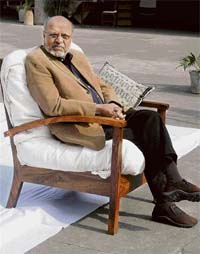 "For the past few years, I wanted to take a break from serious direction and try something different. I have done lot of serious cinema and it is time for change," the noted director said. So, the director is taking a shot at comedy with Mahadev Ka Sajjanpur, starring Shreyas Talpade and Amrita Rao. According to the director, it is difficult to make a comedy. The film is based on the letter writers in village post offices and their importance in the rural scenario. The director is also giving shape to his new idea — an international film based on the life of Noor Inayat Khan, the Indian secret agent during the Second World War. She was awarded the George Cross.
"Noor, the daughter of the Sufi master, Hazrat Inayat Khan, was born in Moscow, and brought up in France and Britain. Lord Meghnad Desai and Kishwar Desai are writing the script of the film," says Benegal.
Based on Shrabani Basu's critically acclaimed book The Spy Princess, it will be the first Indian film which will be made in English, French, German and Hindi.
The director, who was awarded the Padma Shri in 1976 and the Padma Bhushan in 1991, says he faced great difficulties during his initial days of filmmaking.
"Those were the days, when I was made to wait for hours just to narrate my script. There was no space, no place for the young lot to prove themselves. I had to wait for 13 years to get work and make it the way I wanted to." The recipient of the Dadasaheb Phalke Award for 2005, the highest award in Indian cinema for lifetime achievement, loves to work with new generation.
"The new kids on the block are very talented and enthusiastic. They make you feel young as you work with them. It looks like they have inherent acting skills and I didn't face any kind of difficulty with them," says Benegal. — PTI