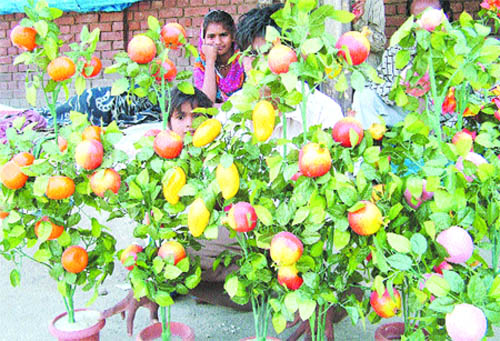 For y

OUR EYES ONLY: A roadside vendor sells artificial fruits in Amritsar on Tuesday. Photo: Vishal Kumar
Wakf board accused of blackmailing residents for property
Amritsar, April 22
Sarvdharam Raksha Sangharsh Samiti (SRSS) today burnt the effigy of the Wakf Board for harassing the residents living in custodian properties by threatening them to vacate the properties and claiming ownership of these buildings.
Lend ailing author a helping hand, writers' body urges govt
Amritsar, April 22
The Punjabi Cooperative Writers Society and other organisations in the city have urged the Punjab government for providing financial aid for the ailing Shromani Sahitkar Kulbir Singh Kang (73).
Ramgarhia Bungas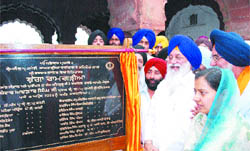 Heritage experts to take care of repair work
Amritsar, April 22
The restoration work at the historical Ramgarhia Bungas in the Golden Temple complex is in full swing after the initiation of "Kar Seva".
SGPC chief Avtar Singh Makkar inaugurates 'kar seva' of historical Ramgarhia Bungas in the Golden Temple on Tuesday. — A Tribune photograph
It's Tokyo calling for city boy
Amritsar, April 22
Nitish Aggarwal, a XII standard student of Holy Heart Presidency School in Amritsar has been seclected for the "Japan East Asia Network of Exchange for Students Youth Programme", organised by human resources development department of school education and literacy of the Government of India.
Lyricist on a song

Sheharyar has been penning nat-geets for the last 25 years
Amritsar, April 22
The documentation of songs of 16 Punjabi plays, staged in Amritsar, spanning 25 years (from 1978 to 2003), under the title, "Sheharyar de Nat-Geet" (drama songs by Sheharyar), has been acclaimed by critics as the first-ever work in this field of the Punjabi literature. Unlike free flow of poetry, penning songs for dramas, in accordance with the situation (scenes) of a play is always a big challenge before lyricists. However, noted Punjabi poet Sheharyar has been performing this duty for two and half decades.
Manmohan is new AVM chief
Amritsar, April 22
Manmohan Singh has been elected president of the Amritsar Vikas Manch (AVM), an organisation for the development of the city, during a meeting held at the Ashoka Senior Secondary School here.
GND varsity mourns death of 2 employees
Amritsar, April 22
Faculty, staff and students of Guru Nanak Dev University today expressed grief over the death of Prof M.D. Singh of the department of laws and Amarjit Singh Ahluwalia, assistant press manager, department of press and publication, here.