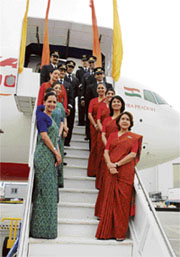 Height of stress
DGCA drafts guidelines to combat fatigue among cabin crew
With stress and fatigue among the cabin crew increasing in recent times, the Directorate General of Civil Aviation (DGCA) has drafted a new set of Civil Aviation Requirements on Flight Duty Time Limitation (FDTL). This covers both aircraft as well as helicopter cabin crew. According to the draft guidelines, operators have to establish FDTL and a rest scheme for their cabin crew in accordance with the Civil Aviation Requirements (CARs) and incorporate them in their operation manuals. A copy of the CARs has been circulated to all stakeholders by the DGCA, soliciting their views and suggestions.
Photo by A.J. Philip

CARs in take-off trouble
Aviation staff raises objections

The All India Cabin Crew Association (AICCA) has said it is opposed to the draft guidelines on flight duty time limitation (FDTL) and would soon file its objections with the appropriate authorities. The guidelines, called CARs, were proposed by the DGCA recently. "We believe that the draft CARs are neither in the interests of passengers nor the cabin crew. We are studying the draft and will soon file our objections with the DGCA," AICCA General Secretary, Sanjay Lazar, said in Mumbai on Monday.


Careercature
Sandeep Joshi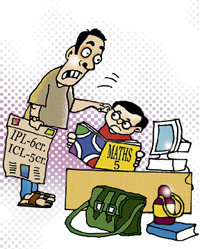 How many times do I have to tell you not to waste time on studies? Go and play cricket.

Career Hotline
Brain child
Pervin Malhotra
Q. I am doing BSc IT, but I am very interested in how the brain functions. Is there any way I can get into this field at this point?
— Harsh Bagai
A. Yes believe it or not, there is. The National Brain Research Centre, Manesar, Gurgaon (Har) (www.nbrc.ac.in), a Deemed University (Autonomous Institute of d/o Biotechnology, M/o Science & Technology, GoI) offers a Summer Training Programme which is open to students who are currently in the penultimate year of their degree programme (i.e. 2nd year of a 3-year B. Sc or 1st year of a 2-year MSc).
BITS & BYTES
JC CAT on June 8
Perfect Publications Pvt. Ltd, publishers of Just Careers, a magazine for MBA aspirants, has announced the launch of JC CAT (Just Careers Common Admission Test), an All-India Entrance Examination for MBA and PGDBM.
Smart Skills
The News makers
Usha Albuquerque
Many students want to get into a career in mass communications without quite understanding what this field is, and the careers possible in mass communication, or the media. 'Mass communication' is a broad term, generally meaning communicating with the masses, and encompasses the different modes by which messages and information are spread to large numbers of people. It broadly covers four major areas of work - print journalism, radio and TV, advertising, and public relations, and new media, or the worldwide web.
US slowdown
IT hiring slackens
The Indian IT industry, which has been on a hiring spree for the last two years, appears to have been hit by the US slowdown, with recruitment firms saying the software companies are trying to cut down on new additions.
Talent crunch forces BPOs to Tier II cities
The surge in real estate prices and a talent crunch in metros are forcing the $11 billion Indian BPO industry to move to Tier II cities in the country, according to a study conducted by consultancy firm Everest Group.

Blog for women staff
Leading womens' website ''Sitagita.com'' has launched an all-India blog for women working in the BPO industry, to provide a platform where they can discuss and share views on their work. Bloggers can submit queries on career and grooming through an Agony Aunt column and also download a handbook titled ''Late Nights, Coffee and BPO'' for free, which gives advice and solutions, a release said in Mumbai recently. — UNI