Icing On The Cake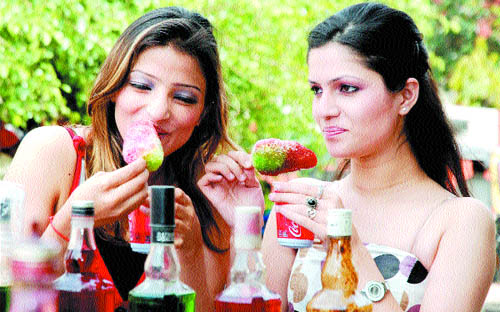 Young girls beat the heat with ice-candies in Jalandhar. Tribune photo: Pawan Sharma
RCF to dish out 300 crashworthy coaches
Kapurthala, April 22
The Rail Coach Factory (RCF) has planned to manufacture 300 crashworthy coaches during the current financial year of 2008-09.
Job camp brings good news for 80 youths
Jalandhar, April 22
In an effort to provide equal amount of job opportunities to unemployed Punjabi youth in private industries, a special job camp was organised at the district industries centre at focal point on national highway number one here today.
Brothers band together for cantt poll
Jalandhar, April 22
For brothers Avinash Chander Sharma and Rajinder Sharma, the day begins with chalking out poll strategies at the breakfast table. With less than a month to go cantonment board poll, the duo, who are in the fray from ward 3 and 5, don't want to waste a single minute.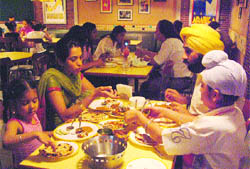 Dinning Den
Youngsters' headquarters
Jalandhar, April 22
An evening in Jalandhar sans a visit to "Headquarters," a famous hang out among youngsters, means you have surely missed out something. The multi-cuisine restaurant known for its quality food has a lot to offer right from quick service to an attractive ambience.

A family enjoys an evening treat at Headquarters in Jalandhar. Photo: S.S. Chopra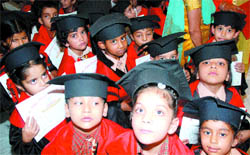 Young World
Contests, rallies mark Earth Day
Jalandhar, April 22
The week-long celebrations to mark Earth Day concluded at CT Public School with poster making and slogan writing contest. The topic for competition was "Be eco-friendly".
Tiny tots of St Soldier Divine Public School during a ceremony held to mark their 'graduation' in Jalandhar. Tribune photo: Pawan Sharma
Biz Buzz
Rural India to go mobile with Gaon Chalo
Jalandhar: Reliance Communications Limited, on Tuesday, announced their special product - Gaon Chalo - for rural India. With the customised offer, the new product will touch the lives of 72 percent of the people who live in the countryside where telephony is yet to penetrate.