Fun Ride
Go-karting made free for spl children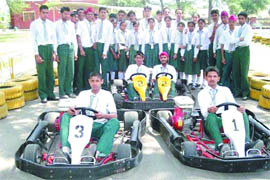 Jalandhar, April 24
With an aim to encourage special children to participate in adventurous activities, the Vajra Corps has introduced a special free of cost go-karting facility for these kids. The place was recently visited by the students of Khosla Deaf School, Pingalaghar and Asha School.


Special children enjoy go-karting in Jalandhar Cantonment. — A Tribune photograph

Power Game
Kalia-Rathour rift puts spanner in devp works
Jalandhar, April 24
The ongoing strike by the municipal corporation (MC) contractors putting spanner in all development works in the city is being seen as an outcome of the apparent discontent between local bodies minister Manoranjan Kalia and mayor as well as his party colleague Rakesh Rathour.


Sunscreen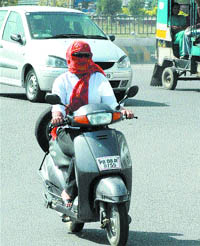 A girl covers her face with a dupatta to beat the heat in Jalandhar on Thursday. — Tribune photo by Pawan Sharma
2 hurt in robbers' attack
Phagwara, April 24
Two persons were injured in an attack by six armed robbers at a 'bardana' shop at Joshiana Mohalla on Wednesday night.
Cantonment Board Poll
Know your candidates from ward number 1
Jalandhar, April 24
With the Cantonment Board elections round the corner, the candidates are all geared up for the show and are seeking votes in the name of development and fair work in their wards. Ward 1, reserved for women candidates with 3,582 votes, covers mohalla number 1 to 8, mohalla number 12, MH Colony, Police Quarters, Kasturba Nagar quarters from 81 to 126, JCOs/NCOs separate family quarters and Syal Kothi.
Young World
Ambedkar institute papers make it to world congress
Jalandhar, April 24
It is a proud moment for the faculty of Dr BR Ambedkar National Institute of Technology (NIT) as seven research papers have found place in a publication to be released on the occasion of Annual World Congress of computer science, computer engineering and applied computing, to be held at Las Vegas, US, from July 14 to 17.


Divider No Bar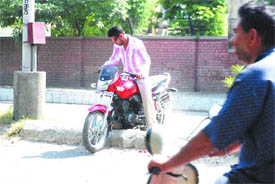 A motorcyclist tries to cross a road divider risking his life in front of DD Kendra on Mahavir Marg in Jalandhar on Thursday. — Tribune photo by Pawan Sharma
'Drink more water to prevent jaundice'
Jalandhar, April 24
More water intake by children during summers can prevent jaundice in them. This was stated by Dr Neelam Mohan, paediatric gastroenterologist from Sir Ganga Ram Hospital during the annual conference of the Indian Academy of Paediatrics (IAP) here.
Workshop on breastfeeding
Jalandhar, April 24
The Society for Service to Voluntary Agencies (North)-Punjab in association with the district health authorities here has organised a three-day training workshop for doctors, nurses and ANMs on "Promote breastfeeding", in which 30 doctors from various maternity and paediatric wards, hospitals, primary health centres, community health centres took part.