Left out of the IPL bash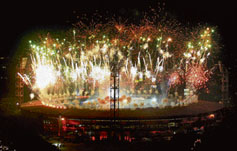 As cricketers set the stage on fire with their heroics at the inaugural edition of the IPL, there were some players who couldn't cash in on this 'rich' cricketing experience, writes Vaibhav Sharma
It has been a dream start for the BCCI-backed IPL. All fears of the glitz and glamour stealing the thunder from players have been put to rest by some booming drives and splendid performances on the field. The league, just by looking at the first few reactions, has started giving the feel of a runaway success.
BCCI needs Networking
Bhartesh Singh Thakur
The richest cricket board in the world is yet to come to terms with the times. A search for the official website of the BCCI on the Internet leaves one utterly disappointed as the board runs a partial website that deals only in ticket sales. This at a time when all franchisees in the newly-launched IPL have brought up their exclusive sites with details about the team and other useful information available just at the click of a mouse.
IN THE NEWS
Premier performances
Still a long way to go
Donald Banerjee
Gaganjeet Bhullar of Kapurthala, who turns 20 on April 27, created a flutter on the par-72 greens of the Beijing CBD golf course, when he fired a three-under par 69 on the opening day to start with a tied ninth spot in the prestigious Volvo China Open.