The best and the mediocre
Tejwant Singh Gill
The Oxford India Anthology of Modern Urdu Literature (Vols. I & II)
Ed. Mehr Afsan Farooqi. OUP. Pages 325 and 349. Rs 795 each.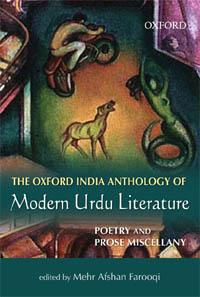 THESE volumes comprise selections of modern Urdu literature in English translation, including 130 authors, covering a span of almost 150 years. Mehr Afshan Farooqi, Professor of South Asian Literature at the University of Virginia, USA, has edited both the volumes. The selection of writings is indeed judicious. Though translation is good, some poetic pieces need to be replenished.
Each volume begins with detailed introduction. Crucial issues relating to tradition and individual talent relating to ghazal and nazam are raised and resolved. Farooqi shows quite convincingly that the literature of this language is alive and growing. Its paedari (the quality of standing the test of time) canít be discounted. With the rise of modernism, abstraction, obscurity and allegory did come into vogue but they remained efficacious only so long as their veracity was there. What has replaced them, of that she is convinced but not convincing to that extent. To put it in clear-cut terms, it is the Anglo-American modernism, propounded by Pound and Eliot, which hold her attention. Its continental counterpart, articulated by Brecht and Benjamin as the proponents, does not charm her to that extent. Each contribution carries a headpiece containing essential information about the author and apt observation about the piece itself.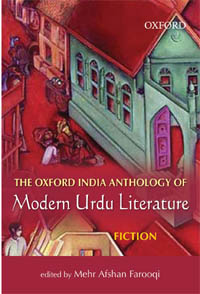 The first volume has devoted 105 pages to poets and their representative pieces. It begins with Akbar Ilahabadi and ends with Tanvir Anjum. In between figure 37 poets, of whom only two, Fahmida Riaz and Sara Shagufta, are women. In all they are represented by 84 pieces. In certain cases, poets, swayed by the Anglo-American version of modernism, get away with three or four pieces. So much so, Mirajiís The Clerkís Love Song is included though it does not rise above imitating T. S. Eliotís Love Song of Mr Prufrock. This is an asymmetry, which could have been avoided. There is another sort of asymmetry as well. Faiz Ahmad Faiz is represented by two pieces, so eloquent of his poetic sensibility. While composing ghazal, he attained great heights by entering into dialogic relationship with Ghalib: by positing the expectation of wasal against the certainty of maut, for example. Likewise, exclusion of Sahir Ludhianvi rankles, not only for his melodic expression but also for the articulation of youthful feeling of revolt as in Taj Mahal.
The rest of this volume comprises what is appropriately termed as ĎProse Miscellanyí. The first entry is Haliís sketch penned by Abdul Haq. With enviable empathy, he draws attention to the catholicity of Haliís vision, his belief in the Hindu-Muslim unity and his desire to see Urdu flourish as Hindustani. A counterpoint to it is Aga Hashr Kashmiriís sketch written by Manto, in which "our credulity, hovering between the seen and the unseen, memory, reality and fiction" gets stretched. Sketches about efforts put in for holding the last mushaira held in Delhi, the discomfort to which even a well-meaning host is put by unwanted guests, are couched in humor marked by politeness and candour.
Ismat Chugtaiís sketch of her brother is incomparable. None from the autobiographical pieces compares with it, though they are written with lot of competence. A scene from the play Anarkali marks the presence of this genre.
The second volume comprises fiction, represented by extracts from novels and short stories. The editor rightly believes that their composition compares favourably with poetry writing in Urdu. Thirty-four authors, beginning with Mirza Muhammad Hadi Rusva to Syed Muhammad Ashraf, figure with an extract from his/her novel or a short story. There are 28 short stories and six extracts. They are preceded by detailed introduction in which crucial issues relating to the rise and growth of these two genres in Urdu literature are raised and resolved.
The selection of authors is judicious, though difference of opinion can be there so far as their representative pieces are concerned. For example, the extracts from the novels of Rusva, Prem Chand, Quttatulain Hyder, Khadija Mastoor and Abdddullah Hussain are largely representative of their art and craft.
So far as Rajinder Singh Bediís merit goes, the story included doesnít do justice to it. As against it, inordinate space given to Shamsur Rahman Faruqi is unjust. Likewise, the absence of Mumtaj Mufti is irksome. However, reading Intizar Hussainís A Chronicle of the Peacocks is an experience in itself.
All these reservations, however, are provisional so far goes the overall excellence of these volumes. They provide the best direction for studying modern Urdu literature in its myriad forms and styles.