Food talk
Board the egg boat
A nutritious vegetable filling, paired with sprouts in bharwan ande makes for a refreshing breakfast, writes Pushpesh Pant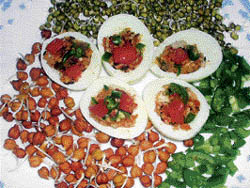 Can you imagine a breakfast without eggs? Well, there are the strictly vegetarian folk who eschew them totally and stay loyal to puri-bhaji, parantha-dahi, poha-upma, dosa, idli etc. but for most bhujiya, omelettes, fried eggs are the staples that sustain them. You can pair the eggs with toast as well as Indian breads (we have greatly enjoyed the egg dosa with sunny side up no less). There are few purists who will settle for nothing less than a delicately soft-boiled egg that can be elegantly spooned into the mouth after slicing off the 'egghead' with a sharp knife. Not to forget the lighter than air creamy frothy scrambled eggs.
Eggs have suffered a slight eclipse in the recent years. First it was the cardiologists scaring us with the cholesterol than the bird flu struck terror in innocent hearts. No one had the time to ponder what came first — the chicken, egg or the pandemic. The all-American breakfast starting with a tumbler full of natural orange juice is based on three large eggs 'made to order' served with bacon, sausages, baked beans and potato hash. Toast with butter, preserves or waffles maple syrup complete the bliss that has a long lasting afterglow lingering past the strong cup of coffee that rounds the repast off. All we can say is sinful. Yield if you can't resist the temptation but remember there is a time of reckoning — stay with good old muesli if you must have the western style nashta. We are quite content with our dalia (sweet or salted) and have never much cared for the fancy much hyped cereals be these flavoured flakes or oats. But let us not digress. Eggs are what is on our mind at the moment.
There is, bless our souls, unanimity about the goodness of egg whites. This has inspired the creation of bharwan ande — very different from the rich and heavy Hyderabadi delicacy kursi miyani. Our hard-boiled egg 'boats' are laden with a nutritious vegetable filling and paired with crunchy mixed sprouts — a refreshing empowering breakfast or cold lunch for the diet conscious. Combine bharwan ande with a bit of seasonal fruit and a glass of cold milk or buttermilk and you have a perfect beginning for a summer day.
Chef's corner
Ingredients
Hard-boiled eggs three
Mixed sprouts (washed well) 50 gm
Cauliflower floret (grated) 50 gm
Green chilli
(slit, deseeded and chopped fine) one
Tomatoes (diced) 1 tsp
Fresh ginger (diced fine) `BD tsp
Oil 1 tsp
A pinch of zeera (seeds)
A pinch of dried mint leaves (crushed)
Salt to taste
Method
Shell the eggs and cut cleanly into halves lengthwise. Remove the yolk taking care that the egg white boats are not pierced. Keep aside. Heat oil in a non-stick frying pan, put in the cumin seeds and when these begin to crackle add the grated cauliflower along with dried mint powder, green chillies and salt. Stir-fry for a minute. Remove from flame. Let cool and pack the egg boats with it. Garnish with tomato dices. Place on a bed of mixed sprouts and enjoy.