Wages of inaction
Price rise
A food security system based on indigenous produce can alone combat the rising prices in India, reports Vibha Sharma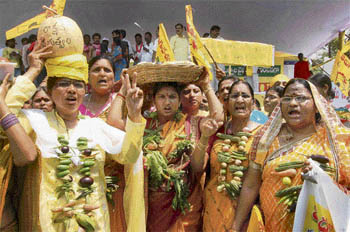 Is there a food crisis in the country? On the basis of government-disbursed facts and figures, the answer to the question would be a ressuring "no". We appear to be sitting on a comfortable food grain stock, procurement is progressing well, and if need be we can always buy whatever we need — food grains, pulses or edible oil — from the international market.
Wearing vegetable garlands, housewives in Hyderabad protest against the UPA government's failure to curb prices of essential commodities


In the heart of the Alps
Glacier 3000, bathed in virgin white and ethereal silence, offers a host of activities like skiing, sledging and hiking to tourists and sports lovers, says Tanushree Podder
The cable car was full of skiers clad in parkas and snow boots, and holding their ski gear atop shoulders. The heavy ski boots and the gear made a thunder-like noise as everyone moved into the vestibule. We were surrounded by giggling teenagers, bright-eyed toddlers, and silver-haired senior citizens. Everyone was on their way to the top of Glacier 3000, the ski region in the heart of the Vaud Alps.

Lion safari in Jaipur
Tourists in Rajasthan can now enjoy an African style lion safari in a new layout at the Jaipur's Nahargarh Biological Park. "The Central Zoo Authority has approved the layout of a safari and we would commence work on the project from March or April," said a forest department official.

There's a lot in a name
The names of characters in movies are often well thought out and, at times, the actors are known more by their reel names, says Surendra Miglani
Filmmakers and storywriters often give fictitious names to the characters in their movies. So we have Ashok, Raj, Sunita, John etc on the screen. But such names are not always a figment of their imagination. Sometimes they are well thought out and given with a purpose.

I've the choice to experiment
From Roja, Bombay, Dil Se, Lagaan, Taal, Rang De Basanti and Guru to the recent Jodhaa Akbar, A.R. Rahman has redefined Bollywood film music with his unique style. Sreya Basu catches up with the master of melody

'I am not a star'
Kay Kay Menon talks to Shweta Thakur about his forthcoming films
He ventured into films after doing an MBA and stints in theatre and TV. But Kay Kay Menon has carved a niche for himself by doing unconventional roles in movies like Hazaaron Khwaishein Aisi and Corporate. However, he does not like to be called a star. "There is a difference between a star and an actor. Anyone leading a flamboyant life can be a star, for instance (entrepreneur) Vijay Mallya. But he is not an actor," Kay Kay said.

Jiah's new role
Subhash K. Jha
Jiah Khan, who after Nishabd had virtually gone underground, will resurface with Aamir Khan in the Hindi remake of the Tamil film Gajini. "It's not that," said Jiah, who was born in New York and raised in London. "I was looking at several offers. I chose what I liked best," Jiah said.



Maid to order
Housemaids are beginning to get organised and are demanding an improvement in their working conditions, along with formal rights. Documentary film Lakshmi and Me is a reminder that these invisible workers must get their due, writes Geeta Seshu
If women in middle class and upper class Indian homes can afford the luxury of freedom from the rigours of domestic chores— dusting and sweeping the house, washing utensils and clothes and, sometimes, even cooking the daily meal—the credit for this must go to the 'other' woman in their lives.