Wages of inaction
Price rise
A food security system based on indigenous produce can alone combat the rising prices in India, reports Vibha Sharma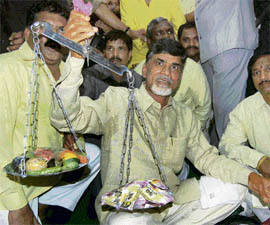 TDP president N Chandrababu Naidu weighs vegetables with a balance during a dharna against price rise jointly organised by the TDP, CPI, CP(M) and SP. — Photos by agencies
Is there a food crisis in the country? On the basis of government-disbursed facts and figures, the answer to the question would be a ressuring "no". We appear to be sitting on a comfortable food grain stock, procurement is progressing well, and if need be we can always buy whatever we need — food grains, pulses or edible oil — from the international market.
The government is also reiterating that the current price rise is not because of shortage back home but due to international prices of items that India imports. However, it is this very lack of individual food security and dependence on other countries that is making the country's leading agricultural scientists see red. According to them, a food security system based on homegrown food can alone help India tide the crisis in the future.
Noted agricultural scientist M.S. Swaminathan, in a detailed note that he recently sent to the government, says: "The cost of inaction or lack of coordinated action will be high. Inflation cannot be curtailed, youth unemployment will grow, malnutrition will increase further and our country will have no option except revert to a ship-to-mouth existence, this time at a cost we may not be able to bear".
He adds that not a single day should be lost in "getting the bridging-the-yield-gap movement going" if the country wants to feed its billion-plus population today and 1.33 billion Indians by 2020-21.
The country's spectacular economic growth rate has been a trump card of the UPA government till the price rise reduced it to the sidelines. As far as population is concerned, an estimate by the National Commission on Population suggests the country's population will touch 1.33 billion by 2020-21.
Consider this: To meet increasing demands of its growing population, food grain production has to grow by two per cent a year over the next decade, which, unfortunately, has not been happening. Otherwise, why would an agrarian country like India procure 5.8 million tonnes of wheat in 2006-07 and 0.68 million tonnes in 2006-07?
Economic wellbeing has translated into more prosperity, which in turn has led to an increase in demand and consumption. The country's demand for food grain is expected to be around 280 million tonnes by 2020-21 World over there are fears of a global food crisis unfolding with food reserves at their lowest in 25 years.
Prices of essential food grains like wheat and rice are at a record high. Back home, though food grain production may not have declined drastically it has also not kept pace with the increasing demand. Government procurement for PDS has suffered, a fact admitted by the Food Corporation of India. The nodal agency for food grains procurement and distribution is confident that it would meet the government's procurement target of 1.5 million tonnes for the PDS in the current rabi marketing season. Last year, the government was able to procure only 1.1 million tonnes and was forced to import 1.8 million tonnes to augment the buffer stock.
Food security
There is trouble in two major granaries, Punjab and Haryana, where farmers are diverting land to cash crops and real estate. In other wheat-growing states private players have stepped in. In many areas land has become infertile due to excessive use of fertilisers and depleting water tables.
Imports are becoming increasingly difficult and expensive due to low global stocks. Consecutive drought years in Australia,the world's second-largest supplier of wheat contributes towards this. Add to this diversion of essential food grain towards bio-fuels in the US and unfavourable climatic conditions in suppliers like the EU, Turkey, Canada and Syria.
India needs to build up its food security base on the basis of home-grown food to protect its large population from the vagaries of the market. It also has to secure its future in the changing global scenario amidst climate change and shift to growing food crops for biofuels for meeting energy requirements.
While neighbourhood markets may be overflowing with not just daily requirements but exotic food items from all over the world, Indian household budgets are going awry. The inflation touched a three-year high of 7.41 per cent for the week ending March 29, with prices of pulses, edible oil and foodgrains exerting pressure on household expenses. One does not have to be an economist to figure that the situation is the result of growing gap between demand and supply.
Agriculture Minister Sharad Pawar says there has been more than 100 per cent increase in prices of wheat and rice in the past year in world markets. In contrast, the increase has been 17.2 per cent in the case of rice and 7.2 per cent for wheat in India. He admits that considering the purchasing power of Indians, the rise is not good. The Left parties, who are supporting the Congress-led coalition for the past four years, have expressed regret that their experiment of backing the UPA might have failed.
The government has been charged with "shameless surrender to delinquent market forces", "inability in controlling inflation" and "hiding behind the cover of global price rise when black marketeers and hoarders were having a field day in the country".
Global trend
As per United Nations' Food and Agriculture Organisation (FAO), the world food grain situation is at its lowest since the 1980s and the immediate future is not too bright. Prices are likely to remain high due to drought-like and unfavourable climatic conditions in major wheat-producing countries. FAO attributes the rising commodity prices and current crisis across the world to diversion of food crops like maize and corn to biofuels in the US and increasing demand from the developing countries, particularly in China and India.
During his recent visit to Delhi, FAO Director General Jacques Diouf said the world had 4-5 million tonnes of cereals stocks, which can feed the global population for only 8-12 weeks in the event of a crisis. He warned that rise in food commodities prices in the world was not going to ease in the short term in view of the supply-demand situation.
Cautioning about flare-ups in parts of the world over food shortage, he said "The world food situation is serious`85 Food riots reported from many countries like Egypt, Cameroon, Haiti, Burkina Faso and Senegal and this may spread to other countries". FAO has called an emergency meeting of heads of states in June to discuss the overall situation. The meet will discuss whether to stop biofuel production in the developed countries, which are diverting foodgrains to make ethanol.
Coping skills
Prof Swaminathan, in his note to the Ministry of Agriculture, says demand will rise because of a higher consumption of animal products by the well-to-do and relatively better consumption of the poor who get some income under the National Rural Employment Guarantee Programme. Swaminathan says the adverse impact of steep rise in energy cost has multiple dimensions. "First, the land and crops are being diverted from food to fuel production in many countries. One-fourth of the total maize production and 20 per cent of soybean oil production now go for ethanol and biofuel manufacture in the US. The bio-diesel industry last year used 60 per cent of the rapeseed output in the European Union.
Because of use of maize for ethanol production, large quantities of wheat are being diverted for feeding animals. The export price of wheat that stood at $381 per tonne in January 2208 climbed to $ 449 per tonne in February 2008.
Freight prices are going up following an unprecedented rise in the price of petroleum-based fuels. Adverse changes in temperature, precipitation and sea-level associated with climate change will cause harm to food production and thereby to income and work security of farm families. The poor nations and the poor in all nations will suffer due to their limited coping capacity"
Governmentspeak
Considering this is the election year, the government is at its defensive best. The Agriculture Minister is confident that India's food situation is comfortable. The country has over half a million tonnes of food grain surplus than the buffer norms as on April 1 this year and procurement of wheat by government agencies this year will be above 99 per cent. He is confident of meeting the target for the PDS in primary wheat-growing states of Punjab and Haryana. Gujarat, Bihar, Rajasthan and Madhya Pradesh are, however, not contributing to the kitty.
If the situation worsens, foodgrains can be imported. As far as edible oil is concerned, the government is planning to import it. Since the prices have gone up in the international market it will provide subsidy and supply it to BPL families at Rs 15. PSUs have been asked to import pulses and make them available to the people to bring down the price with 15 per cent of losses being borne by the Centre. With the wheat stock as on April 1 being 5.5 million tonnes against the buffer norm of 4 million tonnes, Pawar says the country should not panic because this will create a fear psychosis and promote hoarding and blackmarketeering. State governments have been asked to take immediate action against hoarders. The government has taken informal steps to discourage private traders from buying wheat. According to the government, there is no possibility of any "'food riots"' as experienced by many countries. Globally too wheat output is estimated to go up by 6.95 per cent to 646 million tonnes.
The solution
Prof Swaminathan, who is credited with developing a strong food security system in India, says "if in future we want to feed the nation we will have to protect agriculture in the country, especially in Punjab and Haryana which are the guardians of food security of India".
Agriculture, he says, is the riskiest of all professions and farmers are facing increasing hardships. "India cannot afford to take any risk with its food security. It should be able to maintain food security in era of climate change and ensure enough grain for the entire country by making agriculture a viable option for farmers by the way of better MSP and better facilities.
"We need a second green revolution and ensure that food security becomes the bottomline of any climate management programme. Global warming will have a serious effect on agriculture and India should be ready with a drought code, a flood code and a good weather code."
This view is seconded by Prime Minister Manmohan Singh who recently told a global forum that food security was one of the most urgent challenges before the country. "We need a second green revolution. We need new technologies, new organisational structures, new institutional responses and above all, a new compact between farmers, technologists, scientists, administrators, businessmen and consumers".
Five-point programme
Prof M.S. Swaminathan has recommended a five-point formula to the government: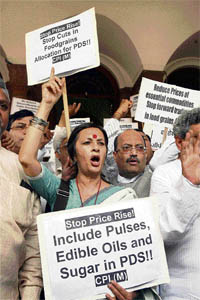 n Need to take advantage of vast untapped reservoir in rainfed areas. Available data shows that the productivity of kharif sorghum can be increased 3.0 to 4.0 times, rabi sorghum 1.4 to 2.3 times and bajra 1.8 to 2.3 times from their current levels. The productivity of pulses and oilseeds can be increased 2.3 to 2.5 times through technology, services and public policies. Irrigation based on rainwater harvesting, more crop and income per drop of water agronomy and remunerative marketing arrangements will help bridge the gap between potential and actual yields during the kharif season beginning June 2008.
n Immediate attention should be paid to productivity of wheat, rice, pulses oilseeds in the Indo—Gangetic plains and eastern India, particularly in Bihar, Jharkhand, Chhattisgarh, Orissa, eastern UP, West Bengal and Assam. Soil healthcare and enhancement can be achieved. Eastern India is a sleeping giant and has a vast, untapped production reservoir to meet current and future needs.
n Active promotion of conservation farming in the heartland of the Green Revolution, Punjab, Haryana and western Uttar Pradesh. In national interest, problems of farmers there should be redressed speedily.
n Crores of farmers rescued from the debt trap as a result of loan waiver will have to be helped to derive benefits from the well-funded schemes of the government
n NREGA can become an effective guardian of ecological and food security provided priority in labour use is given to rainwater harvesting, acquifer recharge, pond construction and watershed management.