Lion safari in Jaipur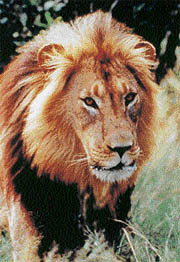 Tourists in Rajasthan can now enjoy an African style lion safari in a new layout at the Jaipurís Nahargarh Biological Park.
"The Central Zoo Authority has approved the layout of a safari and we would commence work on the project from March or April," said a forest department official.
Initially, the safari would have 10 lions brought in from the Gir National Park and the Jaipur Zoo. Lions tend to move around in groups and that will make it easier for the tourists to get a glimpse of the animal.
Nearly 36 acres of land have been earmarked for the safari in the Neejar area of the botanical garden that is densely forested.
Five dens would be created for the lions to give them a natural ambience and protect them from extreme climatic conditions. The area would also have three or four water reservoirs with underground pipes providing regular water supply.
Two watchtowers would also be constructed to monitor the activities of the lions, the official added.
A track would be constructed, which will divide the area into two parts and tourists would be ferried in vehicles on these tracks.
The cost of the entire project is expected to be Rs 1.5 crore and the state government has sought Rs 30 lakh from the Central Government as a grant, the official said. ó IANS