Iíve the choice to experiment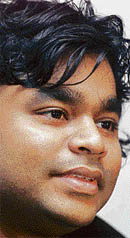 From Roja, Bombay, Dil Se, Lagaan, Taal, Rang De Basanti and Guru to the recent Jodhaa Akbar, A.R. Rahman has redefined Bollywood film music with his unique style. Sreya Basu catches up with the master of melody
We heard that you are going to open a music conservatory?
Yes. It will be opened in Chennai in June this year. It is my dream project and is going to be the first music conservatory of India for training our musicians in western classical music. The first branch of the conservatory will be opened in Kolkata.
When will that be set up?
See, this kind of project requires a lot of planning and time. It took us years to come up with the one at Chennai. I guess we will have to wait for another couple of years for the next one.
Your music for the play The Lord Of the Rings staged at Theatre Royal Drury Lane in London has turned into a phenomenal success. Do you plan a similar play in India as well?
If I plan a musical play in India that has to be superior than Bombay Dreams and The Lord of the Rings. Outside India, people literally travel across cities and even countries to watch a play. People from France and Germany booked their tickets in advance for The Lord of the Rings. India is strongly possessive about her tradition and genre of theatre and music. If only we manage to break off this shell, will we be in a position to experiment a little with Indian theatre, especially when today there is no dearth of sponsors here.
You started with Tamil films, then Hindi, and now you are composing music for Broadway and West End as well. Whatís next in line?
I have started my own label. That means I have the freedom to experiment and do whatever I want to do with and for music. I would like to exploit this opportunity thoroughly. ó TWF