ĎI am not a starí
Kay Kay Menon talks to Shweta Thakur about his forthcoming films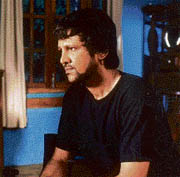 Kay Kay Menon will be seen in a comic role in Sankat City
He ventured into films after doing an MBA and stints in theatre and TV. But Kay Kay Menon has carved a niche for himself by doing unconventional roles in movies like Hazaaron Khwaishein Aisi and Corporate. However, he does not like to be called a star. "There is a difference between a star and an actor. Anyone leading a flamboyant life can be a star, for instance (entrepreneur) Vijay Mallya. But he is not an actor," Kay Kay said.
"I have chosen to be an actor and donít believe in making my stepping-out-of-the-house an event. I am a very simple person," he added.
Kay Kay, an MBA, first worked in theatre and then moved to television. In 1995, he made his debut on the big screen with Naseem, but he shot to fame with Sudhir Mishraís critically acclaimed film Hazaaron Khwaishein Aisi.
Then there was no looking back and the actor earned rave reviews for his acting in Black Friday, Sarkar, Corporate, Honeymoon Travels Pvt. Ltd, and Life...In A Metro.
When asked about his dream role, he said, "There is no dream role that I want to play because I keep dreams and roles separate."
"Either you work or you see dreams. So I see dreams and choose roles separately. A dream is called a dream because it can never be fulfilled in real life and I cherish them. However, when I pick up projects I go for only those that I can do justice to," he explained.
As to why he does not do too many masala entertainers, he said, "Opting for films that cater to a niche audience is not a deliberate effort. I only go for a role when there is something in it that excites me. Itís just like love... and canít be articulated.
"But itís not true that I am only doing serious roles. I did comedy in Honeymoon Travels... and would do the same in Sankat City as well.
Apart from Sankat City, he also has projects like Shaurya, Drona, Maan Gaye Mughal-E-Azam, BBD and Dream Man in his kitty.
Commenting on whether with the advent of the multiplex culture in the country Indian cinema has become more realistic, he said: "There is nothing like unreal and real cinema. Actually, there are only two types of movies ó believable and non-believable. A director can even successfully make a sci-fi believable."
"Although the sensibility of the audience these days has definitely evolved more, it is a result of the exposure of audiences to world cinema, which wasnít there earlier." ó IANS