Maid to order
Housemaids are beginning to get organised and are demanding an improvement in their working conditions, along with formal rights. Documentary film Lakshmi and Me is a reminder that these invisible workers must get their due, writes Geeta Seshu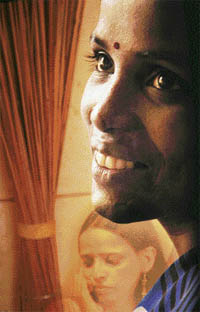 Documentary filmmaker Nishtha Jain (in the background) has captured her domestic help Lakshmi's life on camera in Lakshmi and Me. Photo by WFS
If women in middle class and upper class Indian homes can afford the luxury of freedom from the rigours of domestic chores— dusting and sweeping the house, washing utensils and clothes and, sometimes, even cooking the daily meal—the credit for this must go to the 'other' woman in their lives. Variously called the kaamwali bai, the 'servant', 'my girl' (never mind if she may be a mother herself) or simply, the maid, the contribution of the domestic worker is largely an unacknowledged one. It is also an uneasy relationship — the warmth towards an integral member of the household often tempered with irritation at the dependence on her services.
In a fascinating commentary on this complex relationship, Lakshmi and Me, a 59-minute documentary by filmmaker Nishtha Jain traces the changing equations in the relationship between herself and Lakshmi, the young woman who works as a cleaning woman in her house. The film, produced by Raintree Films and presented by Finland-based Steps India, was nominated for the Silver Wolf Award at the International Documentary Film Festival Amsterdam (IDFA). It premiered in Mumbai on February 3, 2008. Jain has earlier made City of Photos, which looks at the change in the ubiquitous photo studios in small-town India, and 6 Yards to Democracy on the fatal tragedy of a stampede in Lucknow during the distribution of sarees to women in an election campaign.
6 Yards... also won the best documentary award at the Birds Eye View Film Festival, London, 2007. But for her next project, she decided to literally look closer home. As she watched her housemaid go about her daily work, Jain was convinced that Lakshmi (20) had a story to tell and decided to film her. The documentary begins with Jain capturing Lakshmi at her home in Mumbai, as she conducts a religious ceremony, and at work in different houses.
Then, her life takes a dramatic turn when she runs away to marry a man her father disapproves of, gets pregnant, has a baby girl and finally, her relationship with her husband goes through a bad patch. Even as the film traces the journey of one life, it compels the viewer to look at the back-breaking, daily drudgery of housework that relentlessly consumes so many young women, grown old before their time. The film raised a lot of ethical questions, says Jain. She reveals that before she began filming, apart from privacy issues, her biggest dilemma was whether Laxmi could really say 'no' to her as she was Lakshmi's employer. "It's a very uneasy film, made easy only by Lakshmi and her participation.
At one point of time, Lakshmi disappeared, so you can see she is missing from the film. We also left out a lot of footage, especially as we felt that Lakshmi may have said something she would regret later," says the film-maker. But Lakshmi, as the film shows, is made of stern stuff and is incredibly candid on camera. "Before every shot, I would ask myself`85is this valid? Can I shoot this? But throughout, it was Lakshmi who would make the call. She would decide whether we could shoot this or not and we went along," says Jain.
In fact, it is the acceptance of Jain and her camera by all the people in Lakshmi's life that makes the film an absorbing tale, far more compelling than all the reality shows doctored for television these days. What was palpable was Lakshmi's desire to share her life with someone who cared enough to ask. "She had a strong, strong desire to tell her story—about her struggle from being a rag-picker and how she started working after her mother died. She also liked the formality of the shooting. She would say happily 'aaj shooting hai (we are shooting today)', or tell her neighbours that we were coming to shoot in her neighbourhood," recalls Jain.
While initially the film was only about Lakshmi, Iikka Vehkalahti of Steps India suggested that Jain look at it from the perspective of an employer as well. That's when Jain realised she had been interacting with a virtual stranger for the last five years. "I saw a different Lakshmi during the religious ceremony. She was confident, even bossy, ordering people around — not the paragon of diplomacy I knew for the last five years. There was clearly a big disconnect between Lakshmi's working and non-working, everyday life."
At another level, the film also makes a gentle dig at the employer-employee equation, as it examines the behaviour of Lakshmi's employers. One employer spoke of the way she had rescued the girl from her rag-picking work, referring to her 'destiny' that places her where she is. Jain has not spared herself either: "In one scene, I seem like such a nag about the teacups and my editor took it out because 'I didn't sound nice', but we later decided to put it back into the film. Just because I control the camera, I can't paint myself white."
As Smriti Nevatia, producer at Raintree Films put it: "Having a maid has freed women, but the issue is how to treat them? How does one free the domestic maid and her kids in turn?" Even while the film was being made, its crew would discuss the issue. Housemaids are beginning to get organised and demanding an improvement in their working conditions, along with formal rights like leave, medical benefits, provident funds and pensions. Lakshmi and Me is a gentle reminder that this invisible worker must get her due — as a worker, as a woman and as a human. The process must begin at home. — WFS