TELEVISION
Power of five
Before it started many viewers thought that this was yet another 'K' soap from Balaji stable. But Kya Aap Paanchvi Pass Se Tez Hain? Friday to Sunday on Star Plus at 8 pm is anything but a 'K' tear-jerker.
Anchored by Shahrukh Khan, the reality show is based on American Fox TV's Are You Smarter Than A 5th Grader? Here the adult participants are judged on the basis of questions picked directly from books taught from the first to the fifth grade. Those who fail to answer questions will have to admit on camera`85 Main Paanchvi Pass Se Tez Nahin Hoon! Unlike Kaun Banega Crorepati, here the ultimate winner will be a Paanch Crorepati, that is, the prize money is Rs 5 crore and Shahrukh will have five fifth graders who will give hints to contestants who get stuck for answers. And it is these young students who are the big stars of the show.
"When we watched the original American show, these kids were actually jumping with excitement. That's when I realised its real potential and decided to do it," says Shahrukh who has taken lessons from children here — even his own — to give an authentic edge to the show.
Body secrets
This is the most incredible journey you've ever been to — a journey into the human body to familiarise you with all that's going on inside you. Incredible Human Machine on Nat Geo at 8 pm on April 30 is the story of the human anatomy, of Nobel Prize-winning medical research, of disease and health. The show explains the function of each moving part inside you and goes on to show why the human body is the best machine ever invented. It showcases how the vocal chords function, how the body takes in food and digests it, what happens when we breathe and how the eyes function. On the flip side, the programme examines why sometimes the human machine starts malfunctioning and becomes an easy prey for disease. It shows how research in the stem cell field can help prevent various problems, including heart failure, and how in the future the body would be able to harness power to heal itself. Don't miss this eye-opener that will take you right inside your own body — the parts you never dreamt you could ever see.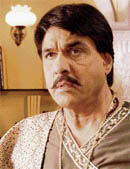 Mukesh Khanna in
Waqt Batayega Kaun...
Adoption drama
Time is all powerful and it has the potential to change people's lives. This is the message in Sony Entertainment Television's new show Waqt Batayega Kaun Apna Kaun Paraya (Monday to Thursday) at 10.30 pm. The soul-stirring drama revolves around Rudra, an adopted girl who enjoys the love and affection of her father Biswajeet but is shunned by other family members. Even her foster mother Yashomati does not show any affection towards her. The story comes full circle when Yashomati is conned by her sons and she realises the worth of Rudra. She accepts her as a daughter she has always longed for.`A0 Led by Mukesh Khanna, Kishori Shahane and Gufi Paintal, the serial highlights the worth of human values and how perceptions change when one is let down by the very people one is banking on for support. — NF