Making of managers
Staying abreast of the changing dynamics of industry is the foremost requirement of good managers today, writes Malobika Sengupta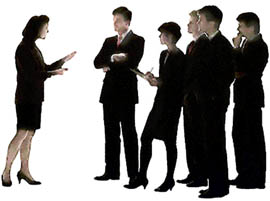 As Corporate India surges ahead at breakneck speed, the need for strong management has become more important than ever before. As the management function evolves, most managers must understand the external and competitive pressures that might arise. Likewise, they must be well aware of the changes, technological advancements and the latest developments that might change their business, the inputs, the processes, and the outputs of their teams.


Careercature
Sandeep Joshi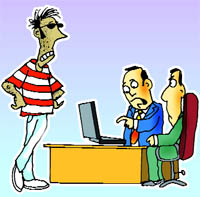 Brave, patriotic, smart, honest... but I would like to know about your job skills.

Career Hotline
Legally bond
Pervin Malhotra
Q. Can you please tell me something about IPR practice and suggest a few courses?
A. There are barely 1,000 practicing patent professionals in the country. According to a NASSCOM report, 33 per cent of the IP demand is from the Knowledge Process Outsourcing [KPO] sector. According to a McKinsey report, the market demand for IP professionals is likely to touch 15,000 in the next three years.
Genius is superior attitude to work
I.M. Soni
Many talented youngsters think that genius is inborn. It is a gift from the gods. Either you have it, or you do not. Thus, they fail to realise the talent they do possess. Another myth they nurse is that the genius gets divine fits of inspiration. Then, he soars high in airy realms, and his inflamed soul pours out feelings of his spectacular achievement.
Social networking sites new media for hiring
Social networking sites are no more just hang-out places as corporates, faced with talent shortage, are seeing Facebook, Orkut and Myspace as a hunting ground for their hiring needs.
Australia's new visa policy allows students to work
There is a good news for Indian students who want to pursue their studies in Australia as new visa arrangements will allow them to work part-time in the country. According to the new rule, all student visas will be granted with work rights attached to it, scrapping the regulation for them to file a separate application.
Listening to staff helps save over Rs 9 cr
Simply hearing out employees on what they feel about the company has helped public sector Rourkela Steel Plant make a one-time saving of Rs 9 crore, besides recurring savings of another Rs 9 crore last fiscal.
Smart Skills
Wardrobe function
Usha Albuquerque
If you enjoy the thought of working with colours, fabrics, and fashion photographers, fashion design may be the ideal career for you. Today, more and more young people, both girls and boys, are seriously thinking of a career in fashion.